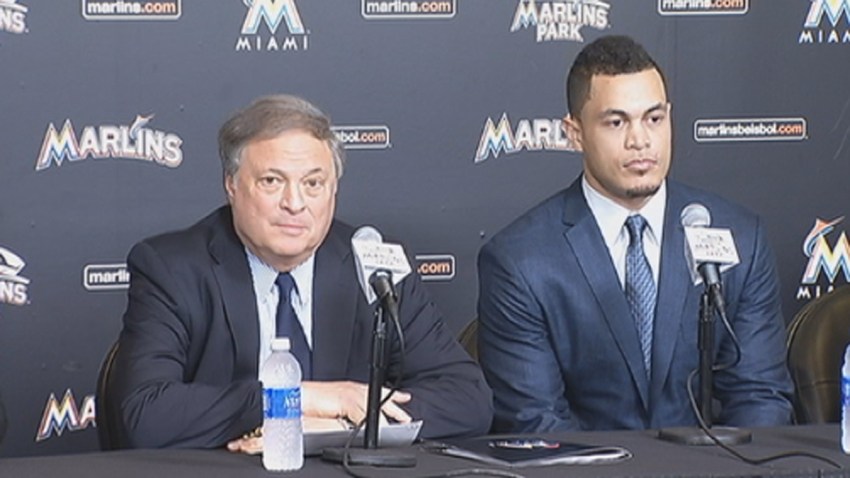 Giancarlo Stanton and the Miami Marlins held a press conference Wednesday morning to discuss the star outfielder's record $325 million contract.
"We're gonna start pushing forward here, this is one step to some building blocks that we need here," Stanton told reporters at the conference at Marlins Park. "We've had some bumps in the road, that's baseball, it takes time and patience, but we're in the right direction."
"Our goal was to start fresh with this team," owner Jeffrey Loria said. "Now we know that things are heading in the right direction, the future is bright for the Miami Marlins and its fans."
Earlier this week, it was announced that Stanton had agreed to the 13-year deal, the most lucrative ever for an American athlete. The deal includes a no-trade clause, and Stanton can opt out after six years.
Stanton's contract tops the $292 million, 10-year deal Miguel Cabrera agreed to with the Detroit Tigers in March. Alex Rodriguez signed the largest previous deal, a $275 million, 10-year contract with the Yankees before the 2008 season.
The right fielder, who turned 25 on Nov. 8, is perhaps the game's most feared slugger. He has 154 career homers despite playing home games in spacious Marlins Park.
Miami's 2014 payroll of $52.3 million was the lowest in the majors, with Stanton making a team-high $6.5 million. The two-time All-Star recently won the NL Hank Aaron Award and was voted the NL's outstanding player in balloting by his fellow major leaguers. He won a Silver Slugger Award and finished second to Clayton Kershaw in NL MVP voting.
Copyright AP - Associated Press