Crews worked early Thursday morning to put out a massive fire that broke out and damaged two large yachts in Little Havana.
Miami Fire Rescue Lt. Pete Sanchez said the fires broke out around 2:30 a.m. along the Miami River near Northwest 22nd Avenue and 14th Street.
Crews spent several hours working to get the fire under control by land and sea.
"We also had ladders on the bridge extinguishing the flames from above, about 17 units on scene and it took about an hour to get this blaze under control," Sanchez said.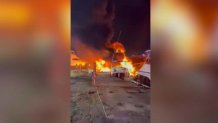 Hazmat teams used foam because of the dangerous chemicals, fuel and plastic on the boats, while a fire boat spent hours hosing down the two boats as they smoldered.
"The conditions were intense. We had multiple units from the bridge, from the water and land. We also were dealing with a lot of fuel, a lot of plastic, so we also had to use the foam operations, that's why our hazardous materials teams were here," Sanchez said.
No injuries were reported, but Sanchez said they have not been able to confirm if anyone was onboard.
Investigators have not released any information on how much damage the two yachts, estimated between 50 and 75 feet in length, suffered.
Miami Fire Rescue spoke to a liaison for the marina, who said the building was in the process of being shut down and the boats located there are abandoned.