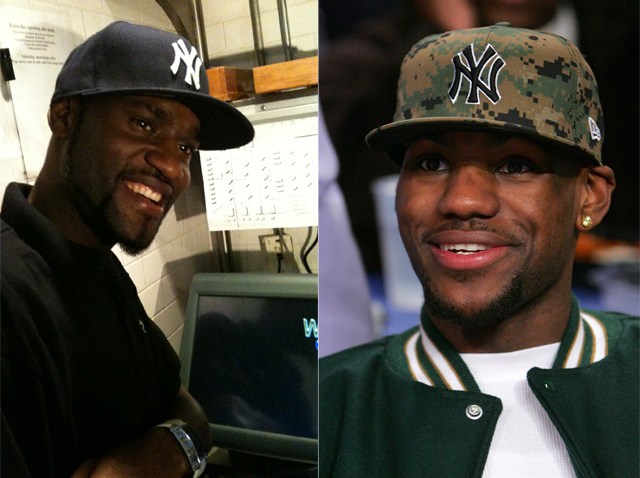 Roberson Monis has never dunked on anyone, blocked a shot or tossed powder in the air.
But ask anyone who comes into Soyka restaurant near the design district and they will swear he has. That's because at first glance, just about everyone Monis comes in contact with swears he is LeBron James.
"I didn't even know who this LeBron James is," said Monis, who busts tables at the restaurant. "My ex-girlfriend, friends and even people at work tell me I look like [James]."
For a while, it was hard for Monis to see the resemblance, mostly because he had never seen LeBron and didn't know who his more famous doppelganger was.
Monis moved to Miami in 2006 from Haiti and isn't a fan of basketball. But when he smiles, it brightens up a room, much like LeBron's trademark grin. Throw on a New York Yankees cap or a headband and voila, you've got the makings of an NBA stunt double.
Even co-workers call Monis "King James."
"Even my manager still says, 'Damn, You look like LeBron James,'" Monis said.
But the similarities stop in the face.
LeBron is a 25-year-old, 6'8 man-child built like a freight train with the wallet to fill one. The 31-year-old Monis is 6'1, slim and lags just a tad behind James in the annual salary department.
"For me, he's taller than me and he's bigger than me," said Monis, as he lists the obvious differences. "People think I look like him, but not him."
But when LeBron announced he was bringing his talents to South Beach to play for the Miami Heat, the comparisons, gawking and inevitable photo requests picked up, Monis said.
At the Miami Heat's home preseason game against CSKA Moscow, Monis was mobbed by several fans from overseas who thought he was the real LeBron. Even vendors and security guards in the arena did a double take when Monis walked by.
"He's the skinny LeBron," one guard said.
But the pseudo-fame hasn't gone to Monis' head.
So far he hasn't used his look-a-like status to get the best table at an upscale restaurant, part velvet ropes on South Beach or even get free Heat tickets, but Monis has been studying up on his famous comparison in hopes of parlaying it into something bigger.
"We have the same face," Monis said. "You never know, maybe I could just play for the Heat."