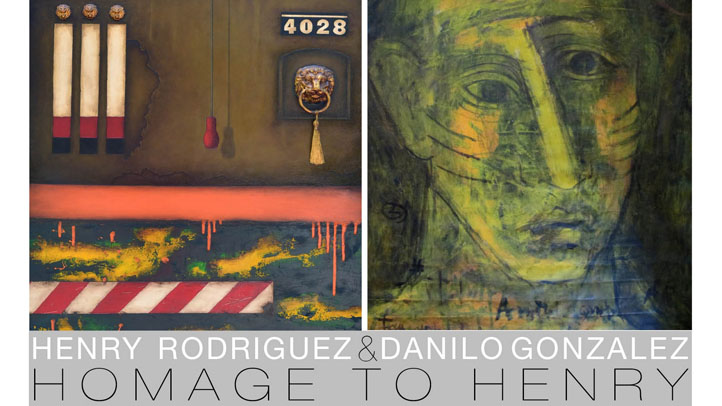 Dominican artists Henry Rodriguez and Danilo Gonzalez, who were friends for more than 35 years, always dreamed about showing their work together. They met in the 80s in New York City and talked about "changing the world" through their art.
But in 2012, months before the two were scheduled to show together during Art Basel Miami Beach, one of the most recognized art fairs in the word, Rodriguez was diagnosed with esophageal cancer.
"I didn't know what was happening. He never called me back, he didn't answer emails and he took down his Facebook page," said Gonzalez, who owns an art gallery in Miami. "I was mad."
Finally Rodriguez's wife called to explain the situation and the two arranged to meet in New York for the final goodbye.
"He didn't want anybody to go through the trouble of seeing him suffering because he knew it would cause pains in his friends," Gonzalez said.
The two were never able to meet again. During his layover flight on his way to New York, Gonzalez received the news that his friend had passed away.
"It was very painful, I just dropped in the airport and asked 'Jesus why is this happening?'" Gonzalez said. "I couldn't see my friend, I couldn't say goodbye to him."
As a way to honor his friend, Gonzalez decided to fulfill their dream of showing their art work together. In his Miami gallery, The Art Place Wynwood, "Homage to Henry," will display about 20 works from both artists during the month of September.
During the exhibit, the Wynwood gallery will distribute materials from the Esophageal Cancer Action Network (ECAN) to raise awareness of esophageal cancer.
"I am not a doctor, I don't know anything about esophageal cancer but doing this is like he is pushing this thing," Gonzalez said.
About 12 of Rodriguez's pieces will be on display and although they are not for sale, the gallery will offer reprints. Gonzalez will also display one of his collections, which was inspired by his friend. Part of the proceeds will go to ECAN.
"Doing this homage to him is very important to me because we always talked about that for many years," Gonzalez said. "We always wanted to do something to change the world so this is the way he is changing the world."