Five new cases of local transmissions of Zika have been connected to Miami Beach, state officials confirmed Friday.
The five new cases are three more than originally thought after an email was obtained by NBC 6 from city officials Thursday.
At a news conference Friday, Florida Gov. Rick Scott said that three of the cases were from tourists who visited the area, while two are residents of Miami-Dade. The cases involve three men and two women.
The cases came from an active transmission area between 8th and 28th streets, which is just under 1.5 square miles, Scott said.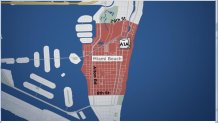 "We're making every resource available to ensure Miami and our entire state remains safe," Scott said at Friday's news conference.
Shortly after the announcement, the CDC expanded their warning for pregnant woman, urging them to not visit the transmission zone, similar to the one made for the Wynwood area earlier this month. The group added that pregnant women and their sexual partners who are concerned about potential Zika exposure consider postponing non-essential travel to all parts of Miami-Dade.
"We're in the midst of mosquito season and expect more Zika infections in the days and months to come," said CDC director Dr. Tom Frieden. "It is difficult to predict how long active transmission will continue."
Frieden said officials will not be able to spray the South Beach area to prevent Zika as they have in other areas because of high-rise buildings and strong winds.
Miami-Dade officials have been spraying pesticide from planes flying over Wynwood since early this month, when Zika transmissions by mosquitoes were confirmed there.
Frieden says planes can't fly low enough among Miami Beach's high-rises to spray pesticides that kill mosquitoes and their larvae. He says strong winds over the narrow island city also hinder such flights.
The county will continue targeted on-ground spraying efforts using EPA, CDC and Department of Agriculture approved pesticides, Miami Beach officials said.
"We're going to do everything in our power to make this city safe for our residents and our tourists, that's the most important, that's job number one for the City of Miami Beach right now," Miami Beach Mayor Philip Levine said at a news conference Friday.
The governor pleaded for more money from the federal government to fight the disease, while also asking for extra testing kits in light of the new location.
Through Thursday, 35 non-travel-related cases across Florida had been confirmed to go along with 479 travel-related cases.
On Friday afternoon, the Florida Department of Health announced there are 14 new travel-related cases with six in Miami-Dade, one in Broward, one in Palm Beach, one in Seminole and five involving pregnant women.
The Health Department added that there was one new non-travel related case located outside the Wynwood and Miami Beach areas in Miami-Dade.
Gov. Scott said there would be a reduction in the size of the "Zika Zone" in the Wynwood area near Downtown Miami, where most of the initial non-travel cases were found.
"Miami-Dade County remains committed to protecting our community from the spread of the Zika virus, and my administration and I will continue to provide whatever resources are necessary to keep our residents and visitors safe," Miami-Dade Mayor Carlos Gimenez said in a statement Friday. "Just like we mobilized and responded to suspected locally-acquired cases in the one-square-mile area north of downtown Miami, we will continue to follow our proactive, aggressive and time-tested protocol in the 1.5-square-mile area in the City of Miami Beach where locally-acquired cases have been confirmed."
At the same time, researchers are planning a study this winter — when mosquitoes aren't biting — to help speed development of much-needed Zika vaccines, and are looking for volunteers.
The quest for a vaccine began less than a year ago as Brazil's massive outbreak revealed that Zika, once dismissed as a nuisance virus, can harm a fetus' brain if a woman is infected during pregnancy.
Now, researchers in the United States have begun safety testing of two vaccine candidates, and more experimental shots are poised to enter that preliminary testing soon. Any that seem promising will have to be tested in thousands of people in parts of Latin America and the Caribbean that are hard-hit by the mosquito-borne virus — the only way to prove if an experimental vaccine really protects.
Even if all goes well, a vaccine wouldn't be available for general use any time soon.
But a different kind of research also can offer clues for vaccine development. It's called a human challenge study, when healthy — and nonpregnant — people agree to be injected deliberately with a virus, mimicking natural infection while scientists track how their bodies react.
The first question is even more basic: How much of the virus does it take to infect someone?
If government regulators agree, researchers could find out by injecting paid volunteers with different amounts of lab-grown Zika virus as early as December in a Baltimore hospital. That information will help the researchers later, when they're ready to test an experimental Zika vaccine.
"We're looking at these human challenge protocols not only as an important step in vaccine development but as a means to learn more about Zika," said Dr. Anna Durbin of Johns Hopkins Bloomberg School of Public Health, who is leading the work. "We can look at things that you just can't do in someone who's naturally infected."
Copyright AP - Associated Press