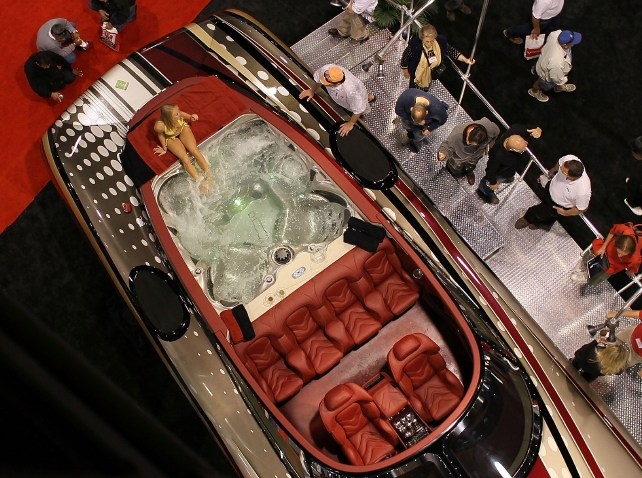 Florida Keys FM radio show host Josh Mothner always talks about "globalization."

He reminds us what goes on in China effects us here in the states, and vice versa. When economics go sour in Greece, we take a hit. Economic uncertainty in Mexico, and we worry. The world is connected economically. It's big pictue stuff, and rarely do we get to specifics, individual cases.

Then came the Miami International Boat Show.

There was a nice looking family working their way through the "Affordable Pavilion" located outside the Miami Beach Convention Center. This is where most folks go to look at boats they can finance without breaking the bank. We're talking in the $30,000 dollar range. Turns out the family was from Denmark. Mom, Dad, and two kids were in town for a vacation centered around the boat show, and they were going to buy.

The scenario was not unfamiliar to Bill Talbert, CEO of the Greater Miami and Miami Beaches Convention and Visitor's Bureau.

"Lots of people do that, especially visitors from South America," he said. Bill was having pipe dreams of rich European or South American tourists. But the family was certainly middle class and they were not buying a mega yacht.

"How are you getting it to Denmark?," I asked. Dad carefully explained that the boat came with a trailer and, yes, they would ship it in a container. "We will send it to Germany pick it up at the dock and then drive it home to Denmark, " he said.

It sounded awfully expensive, but then came this: The current dollar exchange rate and the good deal he was getting in the depressed American boat market made it cheaper for him to buy in the States and then ship.

Mothner reminds us that a cheap dollar is sometimes not so bad. Certainly the boat show sales guy was not complaining, nor was the American boat manufacturer who got the sale. Danish money was just fine with them.