A Miami certified nursing assistant is facing charges after he allegedly molested an elderly man with dementia who was in his care, police said.
Alfredo Gutierrez, 56, was arrested Friday on five counts of lewd and lascivious molestation of an elderly or disabled adult, an arrest report said.
The report said Gutierrez was working as a caretaker for the 85-year-old victim when he was allegedly caught on surveillance video in the man's bedroom grabbing the man's hand and placing it on his genital area and rubbing himself over his clothing.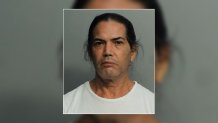 After the victim's daughter gave the video to police, Gutierrez told investigators he "was sorry and felt ashamed," and admitted that he'd had the victim touch his privates on five different occasions, the report said.
"Not only was he seen on video doing it two times on two different occasions, but he also, once brought to our station, he confessed to doing it an additional three times," Miami Police spokesperson Kenia Fallat said Tuesday.
Gutierrez had been employed by OpusCare, which said he is a certified nursing assistant licensed by the Florida Board of Nursing and had to go through an extensive background check.
"This CNA had absolutely no blemishes on his record. OpusCare is dedicated to the well-being and comfort of our patients," OpusCare said in a statement. "Needless to say, we are very disturbed by these allegations and have cooperated and will continue to cooperate with the Department of Children and Families, the police and the family."
Gutierrez was booked into jail and released on bond, records showed. Attorney information wasn't available.