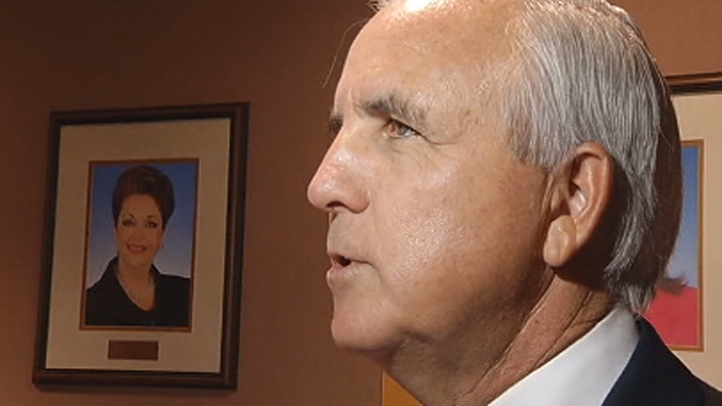 Miami-Dade County Mayor Carlos Gimenez and San Antonio Mayor Julián Castro got together in Miami Wednesday to settle their wager made prior to the NBA Finals between the Miami Heat and San Antonio Spurs in June.
The two had agreed to take part in a City Year project in the town of the winning team, and on Wednesday the mayors participated in a beautification project at Kelsey L. Pharr Elementary School in Miami organized by City Year. Later, they helped serve a delicious Tex-Mex meal prepared by chefs from San Antonio's famous Mi Tierra restaurant to U.S. military veterans and their families at the Fisher House in Miami.
"I'm grateful to Mayor Castro for taking the time to travel to Miami and for holding up his end of our friendly wager," said Mayor Gimenez.
"As passionate as we both are about are hometown teams, this kind of community service is a good reminder for all of us that there are definitely more important things in life. It was a real privilege to lend a hand at Kelsey Pharr Elementary in Brownsville today and to serve lunch to our recovering military veterans at the VA Hospital."
The Heat defeated the San Antonio Spurs in a thrilling NBA Finals that went the full seven games. The Spurs were on the verge of winning the series in Game 6, when they held a 5-point lead with 20 seconds remaining.
But the Heat managed to tie the game in regulation and win in overtime, setting up a decisive Game 7 that went in the Heat's favor. It was the third championship in franchise history, and second in a row for the Heat.
The Miami VA Healthcare System Fisher House is a home away from home for families of Veterans and military service members receiving care at the Bruce W. Carter VA Medical Center. The Fisher House enables family members to be close to their loved one during hospitalization by providing comfortable lodging, in a beautiful and relaxing setting, steps away from the medical center. There is no charge for families staying at the Fisher House.

City Year is an education-focused nonprofit that partners with public schools in 25 cities across the country including Miami and San Antonio. City Year Miami is a proud partner of the Miami-Dade County Public Schools, where it serves in 17 schools.
City Year corps members provide targeted intervention for students most at risk of dropping out by focusing on attendance, behavior, and course performance through in-class tutoring, mentoring, and after school programs that keep students in school and on track to graduate.