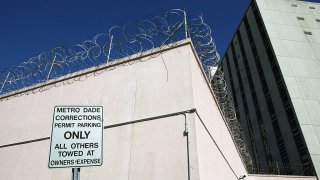 Miami-Dade County's Jail Diversion Program is the topic of a new online docuseries that explores mental illness in the criminal justice system.
The timely five-part series follows the Miami-Dade Criminal Mental Health Project (CMHP), and the work the organization has done to decriminalize mental health with its nationally hailed approach - steering people with mental illness from jail towards recovery.
Miami-Dade's jail diversion program, as well as the county's Crisis Intervention Training, which teaches police how to properly handle those mental illness, are also highlighted in the films.
Episode one airs Wednesday night on One Mind All Media.
Future episodes include:
Episode 1 (August 19): Justin Volpe is a peer counselor with the Jail Diversion Program, and suffers from mental illness himself and was once a JDP client. Now he uses his own experiences with mental illness and recovery to shepherd clients on the path to recovery.    
Episode 2 (August 21): Follow Stephon Berry through his journey as a JDP client, which includes regular visits to Dade Family Counseling for group and individual therapy, as well as medication. It's a regimen he hopes can help him maintain work and find stability long after court supervision ends.
Episode 3 (August 24): Ride along with Miami Crisis Intervention Training (CIT) officer Stephanie Ulmer as she puts her training to use to defuse and de-escalate mental health emergencies.
Episode 4 (August 26): Go inside the remarkably successful 40 hour CIT classes that teach police in Miami-Dade County how to handle people with mental illness, reducing violence and improving outcomes.
Episode 5 (August 27): Follow JDP client Shawna on her path to recovery, culminating in her graduation from the program in an emotional ceremony.