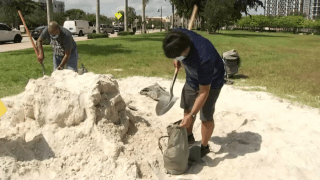 Miami-Dade County is preparing for possible effects from Hurricane Isaias this weekend as most of South Florida remained in the forecast cone Thursday.
At a video news conference Thursday afternoon, Miami-Dade Mayor Carlos Gimenez urged residents to be prepared for whatever the storm may bring.
"There's still a lot of uncertainty with the track," Gimenez said.
In a tweet, Gimenez said all state and county-supported COVID-19 testing sites would be closed starting Thursday evening.
Officials estimate the testing sites will be closed until Tuesday, but that could change.
Gimenez said all parks, marinas and golf courses would be closing Friday night.
The county has been preparing for handling a tropical storm or hurricane in the midst of the coronavirus pandemic, stockpiling supplies and adding shelter space.
In all, the county has 82 shelters that could house 112,000 people, officials said.