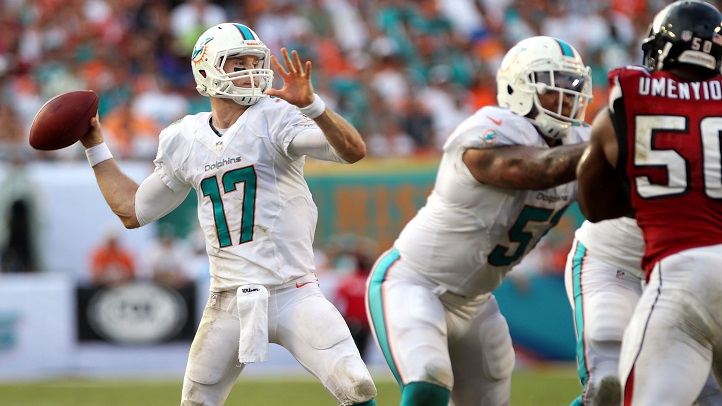 Six days after a crushing defeat at the hands of the New Orleans Saints, the Miami Dolphins look to bounce back at home against the defending Super Bowl champion Baltimore Ravens.
The Saints exposed plenty of the Dolphins' flaws Monday, most notably their struggles to defend tight ends and running backs in the passing game. The Ravens are struggling as well, losing to Buffalo last week while coughing up 5 turnovers and giving up 203 yards rushing.
"We are not unlike a lot of other teams in the National Football League in that we don't have a big margin for error," Dolphins coach Joe Philbin said on Tuesday. "I think that showed up last night. We are playing a good team [this week], we have to play better."
With the Dolphins' bye coming next week, Miami would love nothing more than a win that would move them to 4-1. For the Ravens, a win would allow them to keep pace with the surprising Cleveland Browns, who lead the AFC North at 3-2.
When the Dolphins have the ball: A quarter of the way through the season, Miami's offense has been equal parts reassuring and disappointing. After a dismal effort in the run game in Week 1, the Dolphins have improved their yards per carry each week (now averaging 3.9).
QB Ryan Tannehill is posting a respectable 65% completion rate, but he can't avoid sacks with any regularity (the Dolphins are giving up 4.5 sacks per game), and WR Mike Wallace has not been the deep threat Miami expected going into the season.
Baltimore lost many key contributors from last seasons' Super Bowl squad (notably Ray Lewis, Ed Reed, and Dannell Ellerbe - now a Dolphin). But free agent signee Elvis Dumervil joined Terrell Suggs and Haloti Ngata to form a solid pass rush, and the trio already have 7 sacks between them.
When the Ravens have the ball: Whereas past Ravens squads have been run-first, this year Baltimore is leaning more heavily on QB Joe Flacco, who signed a $120 million contract extension this spring. RB Ray Rice is averaging just 3 yards a carry, far below his career average (4.5). The Ravens have yet to top 100 yards rushing in a game this season.
Flacco does not have WR Anquan Boldin in his arsenal (he signed with San Francisco in the offseason), but Torrey Smith and Dallas Clark have picked up the slack. Smith has 21 receptions for 435 yards thus far, with Clark adding 16 catches for 175 yards. WR Marlon Brown has become a key target in the red zone, leading the team with 3 touchdown receptions.
Miami CB Dimitri Patterson will be out for the fourth straight game, while DE Cameron Wake is listed as questionable. He missed the first game of his NFL career on Monday, and the Dolphins struggled to create a pass rush without him. The Ravens are giving up 3 sacks a game, and Flacco is only completing 57% of his passes, so the Ravens are far less threatening on offense than the Saints.
Who has the edge? The Ravens are not nearly the team that won it all last season (especially on defense), but they still pose a challenge. If the Dolphins cannot force any turnovers against the interception-prone Flacco, the Ravens can easily win a low-scoring slugfest.
The Pick: Ravens 17-Dolphins 14
Details: Baltimore Ravens (2-2) at Miami Dolphins (3-1)
TV: CBS, 1:00pm ET, Marv Albert, Rich Gannon
Line: Dolphins by 3
Previously: Baltimore won 26-10 in 2010