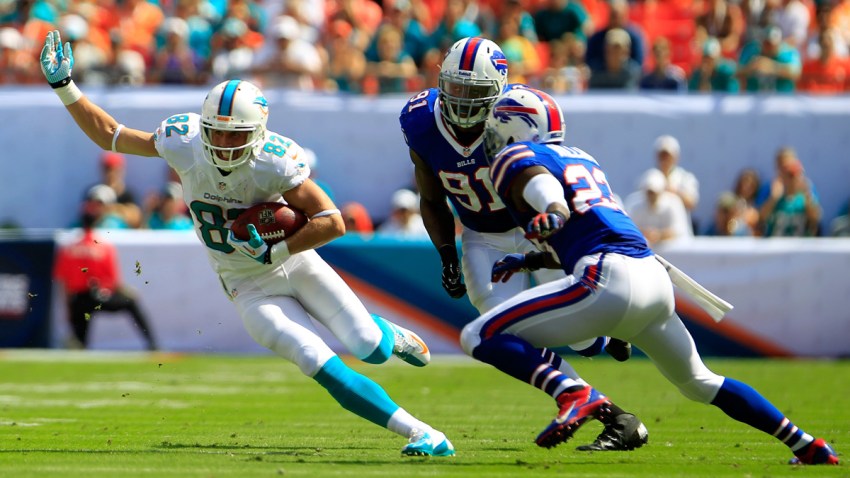 The Miami Dolphins face the Buffalo Bills on Sunday, and as a season full of turmoil approaches its end, Miami has a simple directive. If they win their final two games, they will be in the playoffs for the first time since the 2008 season.
Step one is in Buffalo, against the team that beat Miami at home in Week 7. The Dolphins have won 4 of their past 5 games, though, and have managed to win six games by six points or less on the season.
"There's definitely been no dull moments," defensive end Cameron Wake said this week. "I'm sure there's some high blood pressure medicine being passed out all around Miami with all these close games. That builds character."
If Miami wins and Baltimore and Cincinnati both lose on Sunday, the Dolphins can clinch a playoff berth a week early. As for the Bills, they will be missing the playoffs for the 14th season in a row (the longest active streak in the NFL), so will aim to play spoiler.
When the Dolphins have the ball: Miami QB Ryan Tannehill has been on a roll lately, completing 60% or more of his passes in 7 straight games and throwing 12 touchdowns against 5 interceptions in that span.
His hot streak has been good for Mike Wallace, who has 332 yards receiving and three touchdowns in the last four games after starting his first season in Miami slow. Wallace, plus an improved rushing game (395 yards on the ground during Miami's three-game winning streak), have helped the Dolphins come up with numerous late scores during the Dolphins' latest run.
But Buffalo poses a major challenge with its sack-happy defense. Mario Williams, Jerry Hughes, and Kyle Williams lead a pass rush that leads the NFL with 49 sacks. Williams sacked Tannehill twice in Week 7, but the Dolphins' offensive line has improved (though they still lead the league with 51 sacks allowed).
When the Bills have the ball: EJ Manuel, the Bills' rookie QB, is out after injuring his knee last week against Jacksonville, so Thad Lewis will get a chance lead Buffalo. He has gone 1-2 as a starter this season, the only win coming against the Dolphins.
Still, the Bills have not had much success on offense this season. They are 29th in the NFL in passing offense, and since they have often trailed this season have not been able to take full advantage of their strong rushing attack.
Miami got some good news about their injury-ridden secondary, as starting CBs Brent Grimes and Nolan Carroll were both deemed probable for Sunday. They were unable to finish the New England game last week.
Who has the edge? Miami has more to play for, but the Bills are not to be underestimated, as they proved in Week 7. But the Dolphins' offense has been humming as of late, and Buffalo is not built to win a shootout.
The pick: Dolphins 31-Bills 14
Details: Miami Dolphins (8-6) at Buffalo Bills (5-9)
TV: CBS, 1:00pm EST, Spero Dedes, Steve Beuerlein
Line: Dolphins by 3
Previously: Buffalo won 23-21 in Week 7
Copyright AP - Associated Press