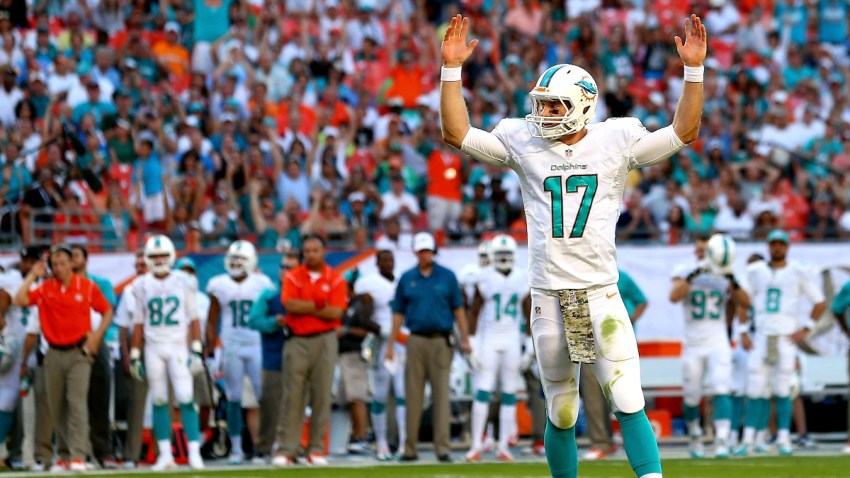 The Miami Dolphins will try to do something on Sunday they have not done since September: win two games in a row. They host the Carolina Panthers, winners of six straight games and one of the top teams in the NFC.
"Obviously they've been on a roll as far as football is concerned, playing pretty well, and we're coming off a game where we feel like we can take the momentum and kind of build with it," Dolphins defensive end Cameron Wake said this week. "Try and make sure we have our season go in a positive direction."
A win helps Miami hold onto at least a tie for the sixth AFC playoff spot, while a loss would put Miami back below .500 before the December stretch run.
When the Dolphins have the ball: Miami's offensive line will be short-handed once again, with Jonathan Martin still away from the team and Richie Incognito on suspension for his role in the team's bullying scandal. Center Mike Pouncey returned to practice this week after missing last Sunday's game with a gallbladder illness, but he is listed as doubtful on the injury report.
QB Ryan Tannehill had a solid game against San Diego last week, completing 22 of 35 passes for 268 yards. He and the Dolphins have made improving the deep passing game with WR Mike Wallace a priority. The two have seemed out of sync ever since Wallace arrived as a high-priced free agent this summer.
"I just get conservative," Tannehill said. "I just have to trust it and let it rip. We talked to coach Philbin, and that's one of the things he told me: 'Just go out there and let it rip.' When a guy gets that open, sometimes you kind of tense up and you don't want to overthrow him, so you end up underthrowing him."
The Panthers, meanwhile, have the third-best defense in the NFL, and are giving up the fewest points in the league. They'll be missing DE Charles Johnson, out with a knee injury. He leads the team with 8.5 sacks, but fellow end Greg Hardy has 6 sacks.
When the Panthers have the ball: Third-year QB Cam Newton is having his best season as a pro. He is completing 63% of his passes with a TD-interception ratio of 16-8. He is also gaining 4.7 yards per carry on the ground, and the Panthers are tenth in the NFL in rushing.
Newton does not have a favorite target, but four different skill players have over 400 yards receiving. In addition to usual stalwarts Steve Smith and Greg Olsen, he has hooked up with former Dolphin Ted Ginn 24 times for 411 yards and 3 touchdowns.
Miami's secondary will face a huge test, especially with top CB Dmitri Patterson (4 interceptions) doubtful. Olsen, an athletic tight end, would normally be a huge threat, but the Dolphins have had success using rookie DE Dion Jordan in pass coverage against tight ends as of late.
But the biggest danger is Newton, who can buy plenty of time in the backfield for his receivers to get open. "I feel like we're up to the task," Miami DE Cameron Wake (6.5 sacks) said this week. "We've got a lot of guys who can run and make plays, we've got guys who rush the passer well and can make sure everybody is on the same page as far as keeping him contained."
Who has the edge? Few teams are as hot as Carolina are right now, but their last two games have been squeakers (combined margin of victory: 5 points). Even so, Miami will be hard-pressed to keep Newton and the Panthers out of the end zone unless they can produce turnovers.
The Pick: Panthers 31-Dolphins 21
Details: Carolina Panthers (7-3) at Miami Dolphins (5-5)
TV: 1:00pm, Fox, Chris Myers, Tim Ryan
Line: Panthers by 4.5
Previously: Miami won 24-17 in 2009
Copyright AP - Associated Press