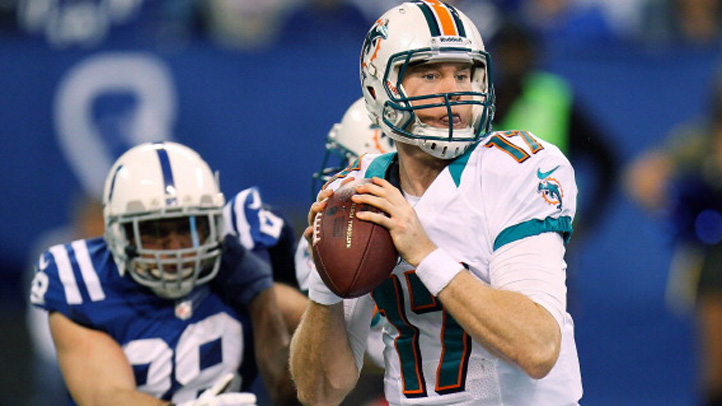 The Miami Dolphins are back on the road in Week 2, visiting the Indianapolis Colts and their prized franchise quarterback, Andrew Luck. While Miami's Week 1 opponent (the Cleveland Browns) is among the worst offenses in the NFL, the Colts have one of the better aerial attacks - finishing last season 7th in the league in passing yards.
"We need to make a lot of improvements from the game we played Sunday," head coach Joe Philbin said this week. "We are going to play an excellent football team on the road again."
The Colts needed a late comeback and defensive stand deep in their own territory to beat the Oakland Raiders last week. Indy's rush defense was highly suspect, but Luck can keep his team in position to win regardless. Here is what to look out for when the Dolphins face their first big test of the young season.
When the Dolphins have the ball: Miami is hoping for better success with the run against the Colts. The Dolphins averaged a paltry 0.9 yards per carry last week, but Indianapolis gave up 5.2 yards per carry against Oakland. One of those disappointments has to yield on Sunday.
Where Indy's defense excels is the pass rush. LB Robert Mathis is a beast in pass rush, and could wreak havoc against Miami's questionable offensive line. Look for the Dolphins to try some quick passes to counteract Indy's pass rush, as they did against the Browns last week.
"They are stout up front," Philbin said of the Colts defense. "They have a good blitz package. Sometimes they will drop eight, nine guys."
When the Colts have the ball: Luck burned Miami for 433 yards passing in their meeting last season. WRs Reggie Bush and TY Hilton form one of the best tandems in the NFL, and Miami's secondary will have their hands full.
But Indianapolis will be without RB Vick Ballard, who is out for the season with a torn ACL. That will leave rushing duties to Ahmad Bradshaw, but most expect Ballard's injury to force the Colts to depend much more on the passing game. As a result, rookie DE Dion Jordan (who knows a thing or two about Luck) could see plenty of playing time in Miami's special defensive set that places Jordan on the field with fellow pass rushers Cameron Wake and Olivier Vernon.
Rookie CBs Jamar Taylor and Will Davis are out for the Dolphins again, while Dimitri Patterson (who recorded two interceptions against Cleveland last week) is listed as questionable. Miami was able to intercept Cleveland QB Brandon Weeden thrice last week, but Luck is a far different animal. The Dolphins will need their pass rush to fluster Luck and take pressure off the secondary if they want to slow down the Colts' offense.
Who has the edge? It is already apparent that Miami is a much-improved team compared to last year's squad, but stopping Luck is not easy. If the Dolphins cannot top 20 points on offense, they will have not chance against Indy.
The Pick: Colts 28-Dolphins 17
Details: Miami Dolphins (1-0) at Indianapolis Colts (1-0)
TV: CBS, 1:00pm, Ian Eagle, Dan Fouts
Line: Colts by 3
Previously: Miami lost 23-20 in Indianapolis