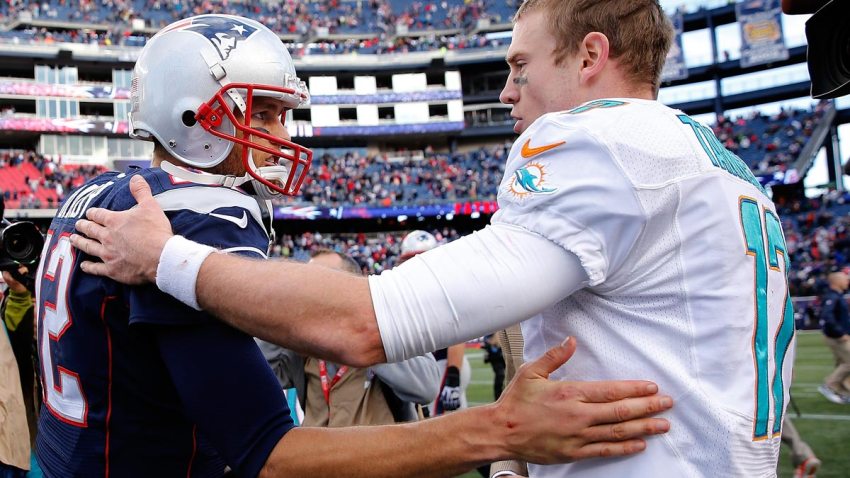 The Miami Dolphins will try to keep their playoff hopes alive Sunday when they host AFC East-leading New England. The Patriots can clinch a fifth straight division title and sweep their series with Miami for the fourth year in a row, while the Dolphins look to keep pace with Baltimore for the sixth and final AFC playoff spot.
The Patriots have come from behind in each of their past three games - all wins. That, plus their win against Miami in Week 8, when they trailed by 14 points, has the Dolphins on guard.
"At no point will we feel like the game is wrapped up until there is no more time on the clock," tackle Tyson Clabo said this week. "Obviously you have to play a complete game. That's what I anticipate us doing."
When the Dolphins have the ball: QB Ryan Tannehill is coming off an efficient performance in the snow at Pittsburgh last week (20-33, 200 yards, 3 TD, 1 INT), but wants to atone for a less-than-stellar performance against the Patriots earlier in the year (22-42, 192 yards, 2 TD, 2 INT).
While high-price WRs Mike Wallace and Brian Hartline have been Tannehill's favorite targets, third-year TE Charles Clay has also emerged as a major threat in the passing game. He has 60 catches for 678 yards and 6 touchdowns, with 24 catches and 3 touchdowns in the last 4 games.
Miami's rushing game has come on as of late (they ran for a season-high 181 yards last week), and will need it if they want to score on New England. The Patriots give up 4.5 yards per rush (26th in the NFL). But New England has excelled at takeaways, forcing 24 turnovers (10th in the league).
When the Patriots have the ball: New England QB Tom Brady is without his favorite target, TE Rob Gronkowski, out for the remainder with a knee injury. But no matter who he throws to, Brady manages to compile gaudy stats. This year he is throwing for 284 yards per game, though his completion percentage hovers just above 60%.
Brady continues to be golden in the second half, leading 5 fourth-quarter comebacks. "I don't feel like there's a third-quarter Tom Brady and a fourth-quarter Tom Brady," Tom Brady said. "I try to always do the same thing. But it's pretty cool that we've been able to come back in all these games and win. That has been a lot of fun. You've got guys that can make clutch plays at clutch times, and that gives everyone a good feeling if you're in that situation."
Miami contained Brady in Week 8 (13-22, 116 yards, 1 TD, 1 INT), but gave up scoring plays of 8 and 12 plays late in Week 8 that allowed the Patriots to win. Miami's defense has been much better in the second half as of late, and that will need to continue if they want to beat the Pats.
Who has the edge? Normally there is no question that the Patriots are the better team, but a rash of injuries this season (besides Gronkowski, Vince Wilfork, Tommy Kelly, Jerod Mayo, and Sebastian Vollmer are all out) has made things much more difficult for New England. If Miami minimizes turnovers and makes the most of its red-zone opportunities (i.e., no field goals), they have a shot at home.
The pick: Dolphins 21-Patriots 16
Details: New England Patriots (10-3) at Miami Dolphins (7-6)
TV: CBS, 1:00pm ET, Jim Nantz, Phil Simms
Line: Patriots by 1
Previously: Patriots won 27-17 in Week 8
Copyright AP - Associated Press