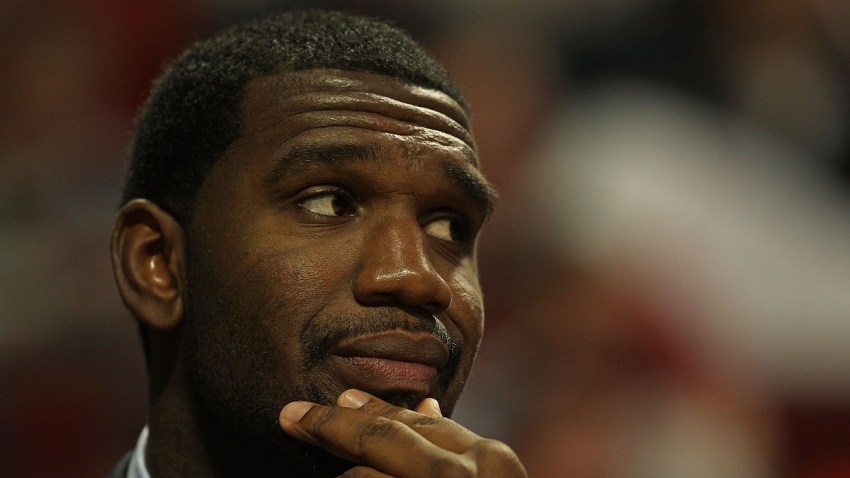 Greg Oden surprised everyone when he signed with the Miami Heat this summer, but it will be even more surprising if he gets much playing in the first month of the season.
On Tuesday, Oden and Heat coach Erik Spoelstra spoke about his role with the team as the Heat opened training camp in the Bahamas. And that plan is: take it slow.
Oden practiced for only a quarter of the first session, and was seen with large icepacks strapped to his knees following practice. But the notoriously injury-prone Oden did not hurt himself. Instead, the Heat are trying to get Oden in shape without putting any pressure on him to contribute to their title defense right away.
"It's step-by-step, practice-by-practice, minute-by-minute," Heat coach Erik Spoelstra said. "He was able to do about a half-hour of the work (Tuesday), the majority of it non-contact."
Oden has not appeared in an NBA game since 2009, having undergone multiple knee surgeries since then as the former number one overall draft pick saw his career hit the skids.
Still, Oden's teammates are excited about his prospects. "I'm excited to see what Big G.O. has to offer," said LeBron James on Tuesday.
And as Spoelstra tells it, the fact that Oden was able to practice at all on Tuesday was a pleasant surprise. "That was a big bonus," he said. "We'll move on from here ... and see what the next step will be."
Oden said he would like to play on opening night October 29, but that seems like a long shot. "We're just going to keep going, do a little bit by a little bit and go from there," Oden said.
The Heat are the overwhelming favorites to win the 2014 NBA Finals with or without Oden, but they hope to have him coming off the bench on a regular basis by the time the playoffs start. Miami's one major weakness during its two recent title runs has been an inability to defend large, athletic centers like Indiana's Roy Hibbert, and Oden could be very helpful in that regard.
In the meantime, Miami will continue to slowly work Oden back into game shape, much in the same way they did with center Eddy Curry during the 2011-12 season. Such are the spoils when a team has the best player in the NBA surrounded by a capable supporting cast that includes multiple future Hall-of-Famers and former All-Stars.
Copyright AP - Associated Press