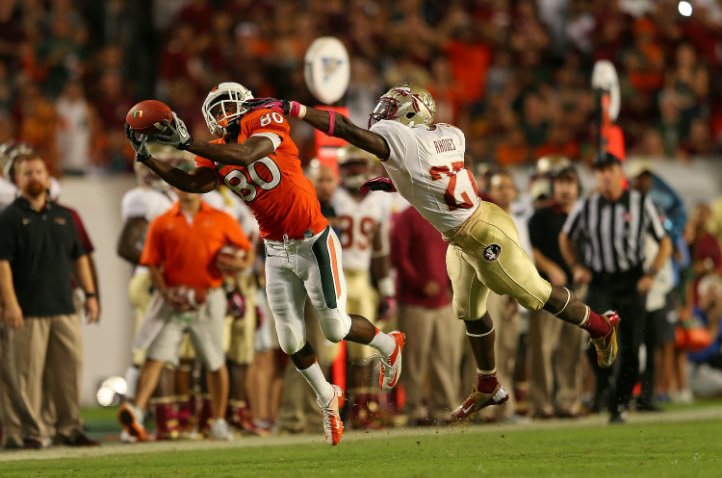 The Miami Hurricanes face their most monumental challenge of the season on Saturday when they visit Tallahassee for their annual tussle with the Florida State Seminoles. For the first time in years, both teams will face each other undefeated and ranked in the top ten. The Canes can prove they are indeed "back" if they can upset the heavily favored Noles and their sensational quarterback Jameis Winston.
"It's a great challenge and an opportunity," UM coach Al Golden said this week. "It's nothing to be nervous about or anxious about. We have to prepare, and we have to have a really good game plan and execute it against this young man, because he is really talented."
While it is very possible these two teams could meet again in December's ACC Championship Game, this is shaping up to be the biggest game for Golden's rebuilding program since the early aughts, when both teams were perpetually in the discussion for best in the nation.
But the Seminoles - who sport an average margin of victory of 39.6 points - are favored by three touchdowns. Can Miami avoid the fate of Clemson - the formerly third-ranked team whom the Noles beat 37 points two weeks ago? It will take a monumental effort and a little luck, but you cannot count any team out in a rivalry game of this magnitude.
When the Canes have the ball: Golden said this week he expects QB Stephen Morris "to be with a clean bill of health" after being slowed by an ankle bruise for most of the season. He bounced back from a dismal performance against UNC two weeks ago by completing 17 of 28 passes for 191 yards and a touchdown last week against Wake Forest.
But the bigger question mark for the Canes' offense might be RB Duke Johnson. Though he has been electric in his first two years at UM, he has struggled against ranked opponents, averaging only 2.9 yards per carry in those games. Florida State's defense is fast, but Miami may have a chance to exploit them using power running sets.
The Noles are giving up the fourth-fewest points in the nation, and opponents are gaining just 289 yards per game (eighth in FBS). CB Lamarcus Joyner has stood out even among his outstanding teammates, racking up 4 tackles for loss and 3 sacks to go with an interception and three fumble recoveries.
When the Noles have the ball: It's all about Famous Jameis for the Noles on offense. The redshirt freshman is completing 70% of his passes with an absurd 23-4 touchdown to interception ratio. FSU's offense flows through their Heisman candidate signal caller, but it helps that he has plenty of talent around him, too.
RBs Devonta Freeman and Karlos Williams are each gaining over 6 yards a carry behind an offensive line that returns four starters. Four different receivers or tight ends have at least 15 catches with an average yards/reception of over 17.
Miami's defense has struggled at times over the last month, befuddled by Wake Forest's wide offensive alignment, UNC tight end Eric Ebron, and Georgia Tech's power rushing attack. It may be impossible to stop Winston, but the Canes will have to at least slow him down if their offense is to keep up. It will probably take at least 2 turnovers and 3 punts for the Canes to have a shot in this one.
Who has the edge? FSU is favored by 22 points for a reason. Miami can keep it closer than the Vegas line, but barring a truly bizarre meltdown by Jameis, this is FSU's game to win. Luckily for Miami, even with a loss they can get a rematch in December if they win their final four games.
The Pick: Noles 38-Canes 27
Kickoff is at 8pm ET with coverage on ABC.