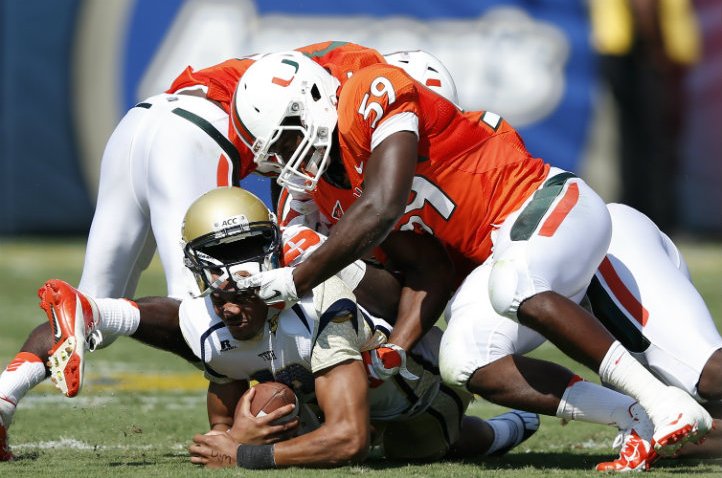 The Miami Hurricanes open up conference play Saturday when their ACC-Coastal rivals from Atlanta come to town. The Georgia Tech Yellow Jackets have struggled since finishing 11-3 in 2009 (head coach Paul Johnson's second season at Tech), but have continually fielded one of the best rushing teams in the nation behind its triple option attack.
"Obviously we're kicking off the ACC conference this week, and going against a foe who gives you a number of things with a high degree of difficulty," said UM coach Al Golden on Monday. "It's an offense that is top 10 in rushing, time of possession, third downs, sacks against, and it's a defense that's in top 10 or top 25 in a lot of the same critical categories."
The Canes have won the last four match-ups against Georgia Tech, and they will need to be in top form if they want to start off ACC play with a win. The Yellow Jackets are coming off a close loss at home at Virginia Tech, and would love nothing more than to come up with an upset at Sun Life Stadium.
When the Canes have the ball: For the second straight week, Miami QB Stephen Morris left the game after tweaking his right ankle against USF last Saturday. Golden said Morris should start this week, but cautioned, "I'd love to be able to say it's a non-issue, but we're not quite there yet."
Morris' completion rate (57%) is not where he would like it to be, but his supporting cast has been clicking as of late. WRs Allen Hurns and Herb Waters have combined for 445 yards receiving, and 7 different Canes have caught touchdown passes this season. Duke Johnson is averaging 6.3 yards per rush, but he will be looking to have a big game after he fumbled twice against USF last week.
Georgia Tech's defense is ninth in the nation in total defense, giving up only 94 yards per game on the ground and 181 yards passing. But they have not faced an offense as balanced and explosive as Miami's yet, and even so have only six sacks and five turnovers through four games.
When the Yellow Jackets have the ball: Georgia Tech is tenth in the nation with 291 rushing yards per game, which is no surprise considering the triple option has been their bread and butter in the Paul Johnson era. RBs David Sims, Robert Goodhigh, and Zach Laskey have all averaged over 5 yards a carry.
QB Vlad Lee is rarely asked to throw (he throws just under 16 passes a game), but when he does, watch out. Johnson loves to lull opposing defenses to sleep with the running game, then attempt the deep ball over the top when they least expect it. Lee is averaging nearly 20 yards per completion, but he has only completed 29 of 63 attempts.
Miami has succeeded against Georgia Tech when its defense has had the discipline to stick to assignment football, and this year's squad has been especially disciplined. Georgia Tech's success will largely be predicated on whether Miami's linebackers can make open field tackles and stick to their assignments. If LBs Denzel Perryman and Jimmy Gaines play well, the Yellow Jackets will find yards hard to come by.
Who has the edge? It is never easy against the Yellow Jackets, but Miami is a veteran team that knows better than to lose their focus against Georgia Tech's unique offense.
The Pick: Miami 31-GT 17
Kickoff is at 3:30 with coverage on ESPNU.