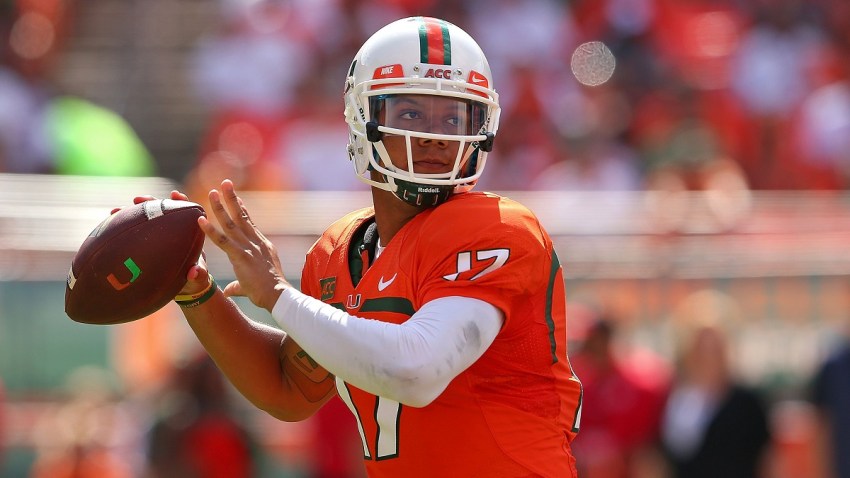 The Canes are back in bowl season. When the Miami Hurricanes take the field on Saturday for the Russell Athletic Bowl in Orlando, they will be making their first bowl appearance since the end of the 2010 season.
Having self-imposed bowl bans in 2011 and 2012 while the NCAA completed its impermissible benefits investigation, head coach Al Golden and his Canes squad are looking forward to their return to the postseason.
"Our kids are excited, I think they're grateful," Golden said earlier in December. "They've been through a lot the past two years, and they have not been able to have this opportunity."
They will be facing the 18th-ranked Louisville Cardinals, who entered the season with hopes of crashing the BCS Title Game, but finished 11-1 and second in the American Athletic Conference. Canes fans should get used to this match-up: Louisville will join Miami in the Atlantic Coast Conference starting next season.
When the Canes have the ball: Senior QB Stephen Morris will look to close his collegiate career on an upswing after struggling at times this season. He completed only 59% of his passes in the regular season, but made a number of long-distance connections with his talented group of receivers.
Atop that list is fellow senior Allen Hurns, who topped 100 yards receiving in each of Miami's last four games. True freshman Stacy Coley (30 catches for 559 yards and 7 touchdowns) has emerged as an electric threat as well.
Louisville will be the toughest defense Miami has faced since playing Florida State in early November. They are second in the nation in total defense, giving up 258 yards per game, and have given up more than 20 points in only two games this season.
DL Marcus Smith leads the team with 12.5 sacks and 16 tackles for loss, while DL Lorenzo Mauldin has 9.5 and 12, respectively. Opponents are gaining just 2.5 yards per rush against the Cardinals, so it will be largely up to Morris and his receivers to move the ball.
When the Cardinals have the ball: Miami will be facing a passer who originally committed to attend the U out of high school, but defected after Randy Shannon was fired in 2010. Junior Teddy Bridgewater completed 70% of his passes for 3523 yards and 28 touchdowns (against only 4 interceptions). If he decides to forgo his senior season, he could be the first quarterback taken in April's NFL Draft.
Louisville has 4 receivers with over 400 yards on the season, led by junior Devante Parker (46 catches, 743 yards, 11 touchdowns). RBs Dominique Brown and Senorise Perry bring balance to the Cardinals' offense, combining for 1,414 yards on 282 carries.
"[Bridgewater] has speed, good corps of receivers, knows how to distribute the football, doesn't make many mistakes with the football, can move in the pocket," said Golden. "It's going to be a great challenge for our corners and safeties."
Miami's defense struggled down the stretch, and has given up a gaudy 182 rushing yards per game. They are 16th in FBS with 27 turnovers forced, though, and it might take more than a few of those to slow down Bridgewater.
Who has the edge? Louisville has benefited from a weak AAC schedule, but the Cardinals are no slouches. It is always difficult to predict bowl results, as teams like Louisville (who expected bigger things at the start of the season) have a tendency to not show up for second-tier bowls like this one.
Even so, the Canes have struggled against efficient passing teams, and they will likely do so again in Orlando.
The pick: Louisville 34-Miami 28
Kickoff is at 6:45pm ET, with coverage on ESPN.