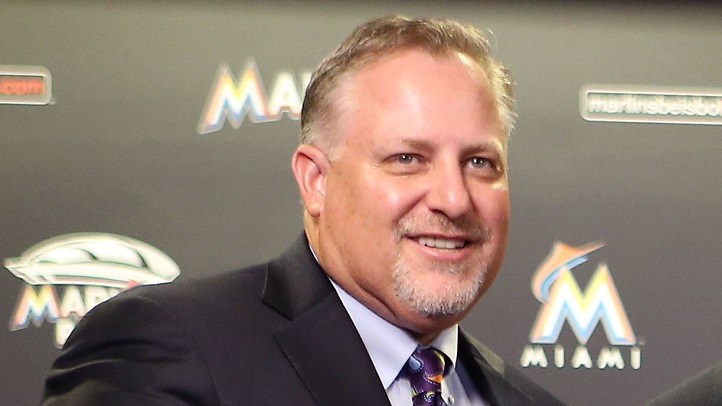 Miami Marlins owner Jeffrey Loria fired Larry Beinfest, the team's president of baseball operations and former general manager, on Friday. Beinfest had been with the team since 2002, when he was hired as general manager shortly after Loria acquired the team.
"Larry has worked with me for 13 years, making huge contributions to our efforts and serving as a partner to me in the process," Loria said in a statement announcing Beinfest's firing. "I wish him nothing but the best and know he will make a great addition wherever he lands."
Beinfest was promoted to president after the 2007 season, and was respected throughout MLB for putting together competitive teams despite the Marlins' notoriously low payroll. Among his most famous coup was a trade with the Chicago Cubs that landed future All-Star Dontrelle Willis, then an unknown prospect.
"I was just fired by Jeffrey Loria," Beinfest wrote in a text message to media outlets. "I want to thank the Marlins for the opportunity. I look back positively at tackling numerous challenges, opening a new ballpark and enjoying a World Series championship. I worked with some tremendous players and staff in Miami and appreciate their friendship and professional respect.
"I look forward to continuing my 24-year MLB career in the near future."
Beinfest had two years remaining on his contract. He had worked with Loria in 2001 on the Montreal Expos, which Loria owned at the time.
He was the Marlins' GM in 2003 when they made an improbable run to the World Series title. They have not returned to the playoffs since, with Loria's tight payrolls making it difficult for the franchise to be competitive.
Loria also fired Jim Fleming, Beinfest's special assistant. The owner said he would soon make further announcements about a new structure in baseball operations.
Beinfest reportedly had been on the outs with Loria since the end of the 2012 season, when the team stumbled to a 69-93 record despite an Opening Day payroll of over $100 million. It was the second of three straight last-place finishes for the franchise.
Though Loria has not hinted at who will replace Beinfest, assistant general manager Dan Jennings is considered by many to be a top candidate. General manager Michael Hill could also be in the mix, should Loria decide not to hire someone from outside the organization.
The Marlins conclude the 2013 season with a home series against the Detroit Tigers this weekend. At 59-100, the team is already assured of the second-worst performance in franchise history.
More Sports Stories:
Copyright AP - Associated Press