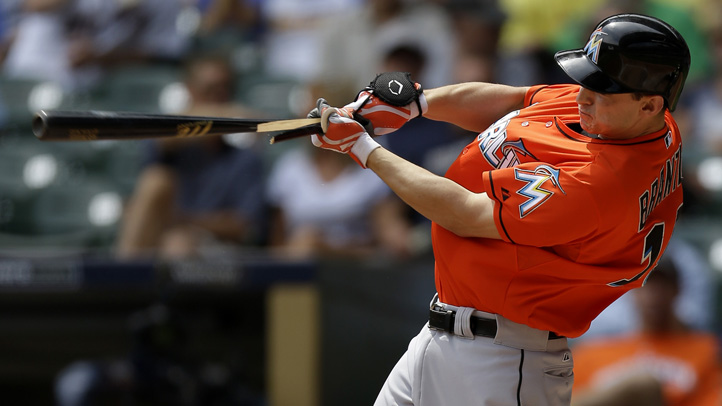 The Marlins' offense couldn't score any runs and Nathan Eovaldi let the Brewers score plenty.
The young right-hander gave up 10 hits in six innings and Milwaukee beat Miami 6-0 Saturday night, shutting out the Marlins for the second straight game and extending their scoreless streak to 24 innings.
Eovaldi (2-1) entered the game having logged at least six innings without surrendering more than three runs in each of his five starts since coming off the disabled list in June.
"Most of the counts, I was behind and the ball was up in the zone. It's frustrating. It's tough to pitch like that," said Eovaldi, who walked two and struck out five.
He also came in with a streak of eight consecutive starts, dating to last season, in which he had pitched at least six innings.
"He struggled with his command, he was up in the zone with his fastball, and they hit him pretty good," Miami manager Mike Redmond said.
Besides Eovaldi's struggles, Redmond doesn't like what he's seeing from his offense.
"I thought we came out flat these first two games, especially offensively," Redmond said. "We're getting completely shut down. We're not getting guys on base and we're not getting big hits."
The Marlins' loaded the bases in the sixth inning with one out, but Logan Morrison grounded into an inning-ending double play.
"That's what happens when you're not swinging the bats well. We had the bases loaded, a couple of opportunities to at least put a couple runs across with a big hit and we're not getting it. I know guys out there are trying but at the same time, this is July," Redmond said.
Yovani Gallardo (8-8) allowed five hits over 6 1-3 innings and four relievers combined to shut down the Marlins the rest of the way. Milwaukee pitchers have recorded seven shutouts over the team's last 30 games after failing to record their first shutout until the 67th game of the season.
"Yovani had great command today. He was really efficient," Milwaukee manager Ron Roenicke said. "When we command the ball we're tough to get a lot of runs off of and the relievers keep doing their jobs."
Gallardo struck out five and walked two.
"I felt good. I was able to keep the ball down, mostly," Gallardo said. "We turned some double plays behind me, which were much needed."
Jonathan Lucroy and Rickie Weeks homered for the Brewers. Lucroy collected four hits in four at-bats and finished a triple short of a cycle.
"I'm trying to stay within myself and finding an approach that works. I'm pretty much keeping it simple," said Lucroy, who has been hot after struggling earlier in the season.
The Brewers continued their dominance at home against the Marlins, having won 13 of the last 16 games at Miller Park, dating to 2009.
The Brewers got to Eovaldi for two runs in the first inning. Norichika Aoki and Jean Segura hit back-to-back singles to start the frame and Ryan Braun followed with a two-run double off the base of the center field wall. The Brewers loaded the bases later in the inning but failed to score.
The Brewers extended their lead to 3-0 in the third when Lucroy hit a home run that caromed off the heel of the glove of Marlins right fielder Giancarlo Stanton.
"Baseball is a crazy game," Lucroy said. "I told (Stanton) I owe him dinner when we play in Miami next year."
Stanton was frustrated by his failure to make the catch.
"Little things like that hurt us. It wouldn't have been a homer," he said.
Lucroy's home run exemplified the Marlins' struggles in the first two games of the series, Redmond said.
"That's kind of the way it's gone for us the last two days, not getting any breaks," he said. "But then again, you have to make your own breaks and we're not doing that either. We need to turn it up a notch. We'd played some pretty good baseball the last six weeks, but the last two days, that's not us. I thought we'd come out energized and ready to go but it's been the exact opposite. For me, that's unacceptable."
Rickie Weeks led off the fourth inning with a homer to center field. Jeff Bianchi followed with a double and later scored on Aoki's single, giving the Brewers a 5-0 advantage. Lucroy's double drove in another run, as the Brewers sent eight batters to the plate in the inning.
NOTES: As part of a Negro Leagues tribute, the Brewers wore reproduction uniforms of the Milwaukee Bears, the city's 1923 representative in the Negro National League. The Marlins donned uniforms of the Minor League Miami Marlins, who were a Triple-A franchise in the International League. The Miami uniforms featured a patch commemorating Hall of Fame pitcher Satchel Paige, who played in the Negro Leagues from 1926-47 and once played for the Marlins. ... The Brewers honored former Negro Leagues players George "Jo-Jo" Altman and Lonnie "Showboat" Harris in a pregame ceremony. ... With a third-inning single, Miami SS Adeiny Hechavarria has a hit in 14 of his last 15 games. ... In a 30-minute first inning, Gallardo threw 25 pitches and Eovaldi totaled 32.
Copyright AP - Associated Press