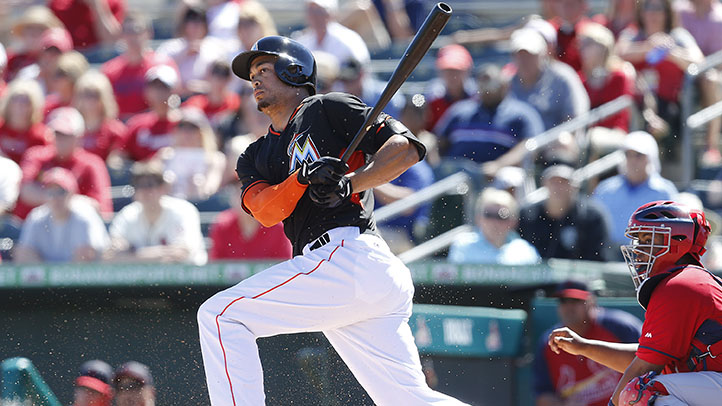 The Miami Marlins improved to 3-0 in the Grapefruit League with a pair of victories on Saturday over the New York Mets and St. Louis Cardinals.
The game against the Mets took place in Port St. Lucie with manager Mike Redmond at the helm. The final score was a 9-1 rout by the Marlins mainly aided by a five run sixth inning. In all, the Marlins picked up 13 hits according to the official box score. Matt Angle and Austin Barnes had multi-hit games for Miami and with the latter also blasting his first home run of the spring. Barnes also walked twice and knocked in a pair of runs on a perfect day for the non-roster invitee. While Barnes who is a catcher is off to a hot start, he is virtually locked out of a job going into the season. Still, a solid spring could propel him ahead of such names as Kyle Skipworth and Rob Brantly on the minor-league depth chart.
Of note on the pitching side of things in the Mets game was Kevin Slowey who spent the 2013 season in the big leagues with Miami. Slowey made his first appearance of 2014 with two scoreless innings that included four strikeouts per the box score. Slowey remains on the outside looking in for a rotation spot this time around but should other competitors struggle, a door could open for the veteran. Slowey's main competition for a rotation job will likely come down to Tom Koehler, Brad Hand and Brian Flynn.
In the game against the Cardinals, the Marlins narrowly picked up the 5-4 win in walk-off style. The win came after coughing up an early four run lead to the defending National League Champions. In all, the Marlins had eight hits including four doubles according to the official box score. One of those doubles came off the bat of Giancarlo Stanton who kept his Grapefruit League average at .500 through two games played. The other doubles were picked up by Donovan Solano, Marcell Ozuna, and Jeff Mathis.
As far as the pitching in the game against St. Louis which took place in Jupiter with bench coach Rob Leary serving as skipper, Nathan Eovaldi did a decent job in his first outing of the spring. Eovaldi went two innings and allowed one un-earned run on three hits per the box score. Top pitching prospect Andrew Heaney also notched his first work of 2014 with two scoreless innings of his own. Heaney is unlikely to make the team for Opening Day but could see some big league action later in the campaign.
The Marlins are scheduled to travel to Viera on Sunday to take on the Washington Nationals with Hand set to make the start. The Nationals will counter with Doug Fister.