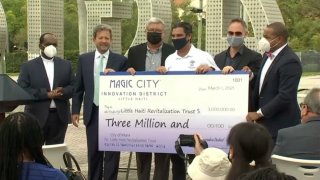 The Magic City Innovation District has given its initial $3 million to the Little Haiti Revitalization Trust.
The announcement was made during a news conference with City of Miami Mayor Francis Suarez in Little Haiti Monday.
Download our app for iOS or Android to get the latest forecasts on the hurricane season— and sign up for alerts.
The money is part of up to $31 million that will provide affordable housing and business opportunities in Little Haiti.
This is a developing story and will be updated. Please check back for more updates.