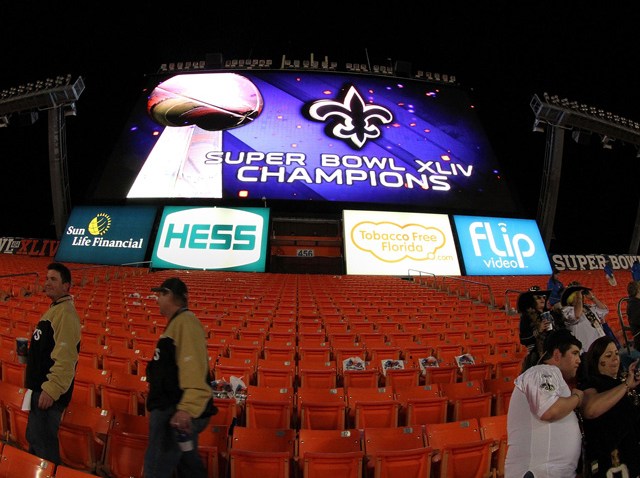 So the Super Bowl TV announcers only mentioned South Florida a few times during the world wide broadcast, and according to those who watched the whole game there was not much in the way of palm tree beauty shots, beaches and the South Beach party scene. The viewer saw a whole lot of football and not much of what experts claim draws tourists.
A California polling firm analyzed the game and produced a report that said this year's Super Bowl did not do much image-wise for Miami and the South Florida region which is included under the brand name Miami.
Polled before the game, 500 viewers had a 10.5 % very positive image of Miami. After the game that number jumped a tiny half percentage point.
Civic boosters have always said that the images of South Florida produced during the worldwide Super Bowl broadcasts is a major reason for hustling to get the game. "Can't buy that kind of publicity," is the usual quote.
"When you have all those eyeballs focused on the Super Bowl and the city you need to bring that home with referencing the City," said pollster John Nienstedt.
Nienstedt said his poll indicated that the muscle was there to really drive home a good positive image of Miami as a tourism location, but it didn't happen. "City boosters could buy a TV spot but that would be expensive," Nienstedt said.
"The glamour shot would have been terrific but the bottom line is the economic impact was not dependent on our showing that face in that Super Bowl game," said Nicki Grossman, who runs the Greater Fort Lauderdale Convention and Visitors Bureau. "The 2007 game generated $289 million in cash direct spending into the South Florida economy. The 2010 game will prove to be a bigger buy than 2007."
Whether media mentions generate tourism will always be an endless debate. At this point it does not appear that local tourism officials are even slightly concerned that Miami might have gotten stiffed by the TV announcers and producers.
Lack of video images or announcer mentions is not getting in the way of pursuit of the 2014 game. The Super Bowl host committee fresh off the most recent event is now gearing up.
Even in downtown Hollywood, which didn't really benefit from the influx of Super Bowl spenders, restaurant owner Ramzi Naber said the Super Bowl presence is critical.
"For South Florida it is very good to have the Super Bowl here again," Naber said.
Cash trumps image every time.