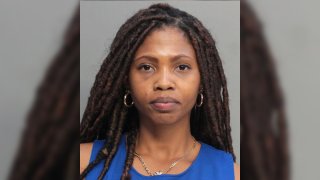 A Miami woman is facing attempted murder charges after police say she ran over her child's father and his current girlfriend.
Melissa Nozile, 28, was arrested Monday on two counts of attempted second-degree murder, according to an arrest report.
The report said Nozile had arranged to meet the father and his partner at their usual pickup spot for the child. The victims were walking to the intersection when Nozile started slowly following alongside in her car, demanding that the man get in, but he ignored her, the report said.
At one point, the victims walked in front of Nozile's parked vehicle, and Nozile started to rev the engine, the report said. She then put it in drive at hit the two victims, knocking them to the ground, then ran over both of them, the report said.
The man had a large abrasion on his face, road rash and a "large laceration to his right ear, which had to be surgically reattached," the report said. The woman had abrasions on her head and face, a laceration on her wrist and road rash on her arm.
The report said Nozile told an officer "I was in a hurry. I saw them, but I was in a hurry."
Nozile was arrested and booked into jail, where she was being held on $17,500 bond Tuesday, records showed. Attorney information wasn't available.