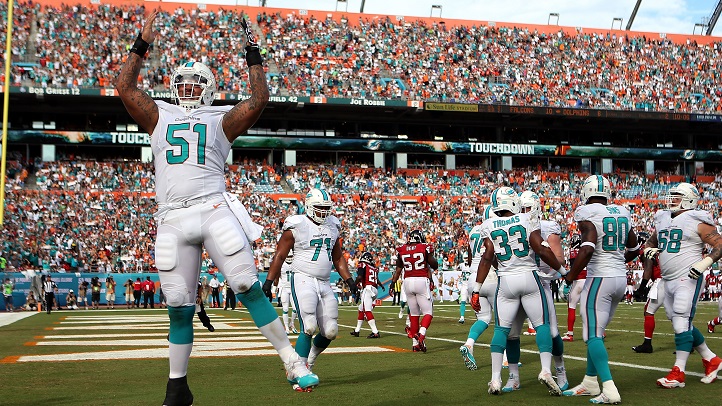 Out with a gallbladder issue, Mike Pouncey watched the Miami Dolphins' win over the San Diego Chargers with suspended teammate Richie Incognito on Sunday. The situation struck them as improbable, to say the least.
"Richie looked over and was like, 'Man, I can't believe that we're sitting here watching the Dolphins play,'" Pouncey said Wednesday. "I was like, 'It's unbelievable, bro. I had never pictured this ever in my life.' We got a laugh out of it."
So two of the five Dolphins starting offensive lineman were reduced to couch duty while a third was also off the field due to the bullying scandal that implicated Incognito. He was suspended for his role in the controversy two weeks ago.
"He's doing really good," Pouncey said. "He's in good spirits. He wants to get back on this football team, wants to get back and play football. Richie Incognito is a football player — that's the only thing he knows. He's missing it to death, but he'll be all right."
Incognito has missed two games for the Dolphins, who are 5-5 and tied for the final AFC playoff spot. On Thursday he will attend a hearing on the grievance he filed against the Dolphins in an attempt to rejoin the team.
Pouncey was interviewed by Ted Wells about the scandal on Wednesday as part of the NFL's special investigation into the allegations that Jonathan Martin was harassed by Incognito and other teammates. Wells has been questioning other Miami players, coaches and staff at Dolphins' camp this week.
"He were asking a bunch of questions," Pouncey said. "It seemed like a long time but it probably wasn't. They got all the questions they wanted to get out of us, and we gave them trustful answers. They're in there just trying to figure out what's going on, so they're doing the right thing."
Pouncey was back at practice Wednesday. He lost five pounds because of his illness, which made him miss his first game since he was 6, according to Pouncey.
"It's the worst diet ever ... just bland soup. I actually got my appetite back, so they said whatever I can hold is what I can eat," he said. "It started out as food poisoning, I think, and they ran a bunch of tests and found a couple of other things. But we're going to get through it. ... I feel great, I feel like I'm Mike Pouncey again."
Meanwhile, Wells is also looking into whether any Dolphins coaches or staff instructed Incognito to toughen up Martin, a second-year lineman. He spoke with Wells for seven hours last week. Incognito will also have his day with Wells. Under the NFL rules, the Dolphins can continue to suspend him without pay for two more games.
"We're cooperating fully with the" NFL investigation, Dolphins coach Philbin said. "That's all I'm going to say on that."
Copyright AP - Associated Press