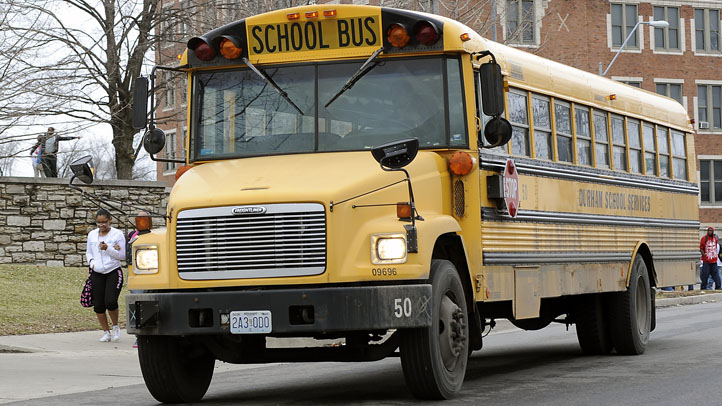 A Broward County mother is accused of being a school bus bully after she took justice into her own hands and confronted a child who hit her kid.

Toccara Daniels, 27, was arrested Tuesday and charged with burglary with assault or battery and child abuse without great harm.

Police say Daniels became irate when her young daughter told her another kid had hit him. The children are ages 6 and 7.

Daniels knocked on the bus door and the driver opened it, telling her she wasn't allowed on, but she ignored the driver.

As evident in the video, the mad momma charged onto the school bus, had her daughter point out the boy who hit her. She then smacked the kid in the mouth with the back of her hand and told him, "don't touch my child."

As she she walked back to the front of the bus, the bus driver is heard telling her that she isn't allowed on the bus, to which she replied, "I don't give a f--k." The driver closed the bus doors and initially wouldn't let her out.

"Let me off this f---in' bus," she can be heard saying. Eventually, she changes her tone, apologizes and the driver lets her off.

Daniels, who was on probation for driving with a suspended license, appeared in bond court Wednesday morning, where she was ordered held without bond.

"I can understand as a parent, somebody abusing your child and you're gonna go on the bus," Judge John Hurley said during Wednesday's court appearance. "But in this case, the court has to follow the law.

"Emotionally, my heart goes out to your client but legally I have to follow the law," he told Daniels' lawyer.

"Yeah, my daughter hit the kid -- wouldn't you have?," a woman at the Pompano Beach school bus stop Wednesday afternoon, who identified herself was Daniels' mother, told NBCMiami.
An official with Broward County Schools told NBC Miami that only parents of special needs children are allowed on buses.
It's not the first time a Broward parent had decided to fight back against bullying. This past September, Hollywood dad Jose Enrique Guerrero allegedly pulled a stun gun on a fifth grader who'd been harassing his son. Guerrero was later charged with child abuse.

Just a couple weeks later, a dad up in Seminole County was caught on tape going after some kids on a school bus who were supposedly harassing his daughter.