A City of Miami Police motorcycle officer was killed after being involved in a major crash Tuesday in southwest Miami-Dade that also sent a dozen people to the hospital.
The crash, which happened at the intersection of Southwest 8th Street and 137th Avenue, had the road shut down for several hours and injured a dozen people. The intersection reopened early Wednesday morning after their investigation was completed.
Miami Police identified the officer as 53-year-old Jorge Sanchez. He was a 21-year police veteran.
According to the City of Miami Police Department, Sanchez first served as a patrol officer, then moved onto criminal investigations, and for the last 7 years he was part of the traffic enforcement unit as a motorcycle officer.
Florida Highway Patrol identified the driver who struck Sanchez as 26-year-old Ronald Pla. FHP Trooper Joe Sanchez told NBC 6 that soeed was a factor in the crash. Toxicology results are pending for Pla.
At a somber news conference Tuesday evening, Chief Rodolfo Llanes expressed grief: "[Sanchez] served this department with dignity, strength, and professionalism. I and all the officers, civilian staff that work here will miss him dearly."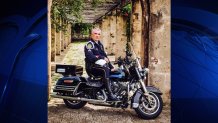 Hours after the crash, fellow motorcycle officers led a procession - an ambulance carrying Sanchez's body - from Kendall Regional Medical Center to the Medical Examiner's office.
As word spread of Sanchez's death, Gov. Rick Scott and police agencies across South Florida sent their condolences to the Miami Police department.
My heart goes out to the family and loved ones of Officer Jorge Sanchez. He is in our prayers. — Rick Scott (@FLGovScott) November 2, 2016
@MiamiBeachPD @MiamiPD Appreciate the tweet, a tough loss in the motorcycle unit family. — Sam (@SamG_18) November 1, 2016
Ten cars were involved in the crash, with one resting on its side. Debris was scattered across the intersection.
Miami-Dade Fire Rescue said 12 people were injured, two in critical condition. Five people were taken to Kendall Regional Medical Center and Baptist Hospital. Officials have not released their identities.
Police say Officer Sanchez was on his way to work at the Miami Police Department headquarters in Doral. Sanchez was heading eastbound on 8th Street waiting to turn left on 137th Avenue when he was rear-ended by an SUV driven by Pla, police said.
Jose Reyes described the harrowing moment when the officer was hit.
"He flew maybe 25 or 30 feet. That's all I could say. When we responded to the officer, me and my wife, he wasn't responsive," Reyes said.
Alberto Lugo said he was behind one of the cars that was hit. He shared pictures of the chaotic scene moments after impact.
"It was pretty shocking because the only one we could see in the middle of the road is the officer. We didn't see the other. Everybody else was still in their cars," Lugo said.
FHP said charges are pending in the investigation.
The President of the Miami Fraternal Order of Police, Javier Ortiz, released a statement on the death of Officer Sanchez:
"I regret to inform you that Officer Jorge Sanchez has passed away while performing his duties as a law enforcement officer. Brother Jorge was riding his MPD motorcycle when he was struck by a vehicle. He was transported to Kendall Regional Hospital. The Fraternal Order of Police responded to the hospital soon after the crash. Chief Llanes will have a press conference at Miami Police Headquarters at 1900 HRS. The FOP is working with the family and the MPD on funeral arrangements. Please pray for his family. Special thanks to Miami-Dade Police, Miami-Dade Fire Rescue, Miami Beach Police and the Florida Highway Patrol for their assistance."
Officer Sanchez is survived by his three children, mother, ex-wife, and fiance. His son, Eric, is also a City of Miami police officer.