What to Know
Before we get to all of that, we rank each game up with our NBC 6 not-so-scientific system.
While much of South Florida is still in a food coma from all the turkey, stuffing and other treats from Thanksgiving, the area's football teams are in a work week mode after what was a weekend that one program will never forget and the other wants to act like it never happened.
What we saw last weekend inside Marlins Park will last in South Florida for years to come – as fans of the Miami Hurricanes saw their patience with their first year coach go down big time while the FIU Panthers could rename the school after their head coach at this time.
Meanwhile, the Sunshine State sees the holiday weekend bring with it one of the best rivalries in the entire nation – this year with both teams already bowl eligible – while the state's other big programs meet in what could be the final game for one of their head coaches.
Oh yeah, the Miami Dolphins play to in their road toward a top five pick in this year's draft – but before we get to all of that, we rank each game up with our NBC 6 not-so-scientific system.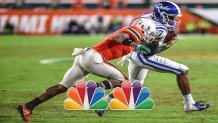 Miami Hurricanes at Duke Blue Devils (Saturday)
In the eyes of many, last weekend's loss by the Canes to FIU was the worst in the history of the program – and quickened the fact that head coach Manny Diaz is going to need a big turnaround in the coming seasons to make up for what took place at the former site of the Orange Bowl.
Diaz has been quiet on the quarterback spot, where Jarren Williams threw for three interceptions one game after setting the school record for touchdowns in a game. One thing is for sure: if the Canes lose here and in their bowl game, one has to wonder if Diaz will get a second season in Coral Gables.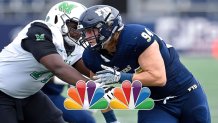 FIU Panthers at Marshall Thundering Herd (Saturday)
You win, you get talked about sooner – and for those with their paws up since last weekend, it's a good time to be a fan of the men from Southwest 8th Street after getting the biggest win in program history while also being bowl eligible for a third straight season.
Head coach Butch Davis has the team believing that they can do some serious work in the coming seasons – and with a victory this weekend, they are assured of a winning season that combined with a win over the Canes could give them a win over Miami in recruiting too.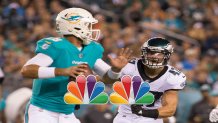 Miami Dolphins vs. Philadelphia Eagles (Sunday)
Well, any small chance of a turnaround for the Fins came to an end last week with a blowout loss to the Cleveland Browns that cemented a third straight losing season and made the last five games all about getting the best picks possible to turn around this dumpster fire.
Luckily, they are facing an Eagles team that looks nothing like the Super Bowl champs they were just two seasons ago – so for those who don't get the whole point of tanking for the best pick, there is still a chance the Dolphins could get a win this week.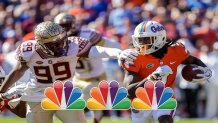 Florida State Seminoles at Florida Gators (Saturday)
Unlike last season, the Gators can't keep the Seminoles out of a bowl game this season as the orange and blue look for their first win in Gainesville over their rivals since 2009 – when they had a quarterback named Tim Tebow and finished in the top five nationally.
While Florida is a heavy favorite in this one, the Seminoles are not likely to get blown out again as interim head coach Odell Haggins has led the Noles to two straight wins and gotten that bowl game back on the schedule – but they are going to need to play their best if they want to end the decade unbeaten in the Swamp.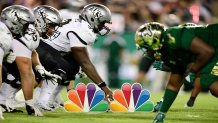 USF Bulls at UCF Knights (Friday)
There is a decent chance this could be the final game as head coach of the Bulls for Charlie Strong – while the Knights find themselves realizing how the other half lives after losing three games so far this season following two straight years where they lost…one game.
Other State Games
All the action comes down to just two games here – as the FAU Owls conclude their regular season at home on Saturday against Southern Miss while on Sunday it's the Tampa Bay Buccaneers hitting the road to take on the Jacksonville Jaguars in a game of two teams beyond desperate for a win at this point.