What to Know
How does the state celebrate? By having nearly everyone on the bye week in South Florida.
It's amazing how one month can change the thought pattern of the average sports fan – as just a few weeks ago, the obituaries were written for the football teams that call South Florida home as it looked like nothing but bad news was going to bestow the Miami Dolphins, Miami Hurricanes and FIU Panthers.
Since then, both the teams that call Hard Rock Stadium home are on winning streaks and the men from Southwest 8th Street are just one game for being bowl eligible for a record third straight season – while the men from Boca Raton, the Florida Atlantic Owls, could actually play for their conference title this season.
At the same time, the state's other two big powers bounced back from losses to get much needed conference wins last weekend. So how does the state celebrate? By having nearly everyone on the bye week in South Florida.
But, that won't stop us here with our condensed version of previews using our NBC 6 not-so-scientific ranking system – this week with a little help from the morning web team at our sister station Telemundo 51, who had a little too much fun with this.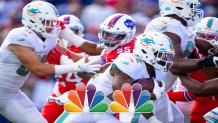 Miami Dolphins vs. Buffalo Bills (Sunday)
When these teams met nearly a month ago, the Dolphins actually played like they were a pro football team for the first half before Buffalo came back and got the win. Since then, Miami has won two of their three games while the Bills have dropped two of their three games over that span.
While this game isn't going to be for any titles in the AFC East this season – since the New England Patriots still play there – Miami is going for their second straight win over their divisional rivals inside Hard Rock Stadium and third win in the last four seasons.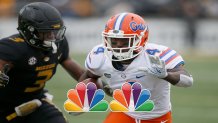 Florida Gators at Missouri Tigers (Saturday)
It wasn't that long ago that this game looked like it could be for the SEC East title – that was until the Tigers lost three straight games and the Gators got beat by rival Georgia two weekends ago to make this for the second place…title…in the division with just weeks left to play.
Florida did bounce back in a big way from their loss to the Bulldogs with a shutout victory over Vanderbilt last weekend that kept them in line for a New Years Six bowl berth for a second straight season – could they be playing in the Orange Bowl for the first time since winning the title in the 2008 season (technically a BCS Title game appearance, but their last postseason trip to South Florida).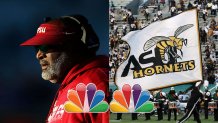 Florida State Seminoles vs. Alabama State Hornets (Saturday)
Fans of the garnet and gold have done a complete 180 degree emotional turn from how they felt after a third straight loss to rival Miami – and the firing of head coach Willie Taggart – with a win last weekend at Boston College that made a win this weekend be for bowl eligibility, something beyond important after missing out on the postseason last year for the first time since 1981.
FSU fans are breathing easier as the win over a FCS team – a group the Seminoles have never lost to in their 24 games against opponents from that level – would give them that valued bowl game and take a little bit of the pressure off the growing question of who will be their third full time head coach in a four season period.
Other State Games
USF is at home this weekend for a nationally televised game against a ranked Cincinnati Bearcats team while both FAMU and Bethune Cookman are in action – the Rattlers hosting Howard while the Wildcats are at North Carolina A&T – before their meeting next weekend in the Florida Classic.
Both the state's other NFL teams are in action against divisional foes this weekend with the Tampa Bay Buccaneers at home against the New Orleans Saints while the Jacksonville Jaguars are on the road to face the Indianapolis Colts, who lost last weekend to the Miami Dolphins.