What to Know
After two weeks away with everything from storm coverage to a broken arm, we are back rating each game.
It has been a long, strange trip to start the college football season – one that has also been quite the bit of bad luck for the college and pro teams that call South Florida home.
Through the first two weeks of the college football season and after the opening weekend of the National Football League, the five teams that play in Miami-Dade, Broward or Palm Beach – the Miami Dolphins, Miami Hurricanes, FIU Panthers, Florida Atlantic Owls and St. Thomas Bobcats – have combined to win not a single game and have a record of 0-8 at this point.
At the same time, the state's other two big powers head into the weekend with one looking for respect and the other for payback – while the biggest game in the state may be the one involving the latest program trying to break into the grown-ups table.
Most importantly, after two weeks away with everything from storm coverage to a broken arm, we are back rating each game with our NBC 6 not-so-scientific-system.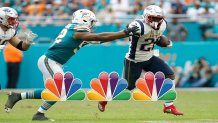 Miami Dolphins vs. New England Patriots (Sunday)
Yeah, it was not a good start last weekend as the Fins suffered their worst home loss in franchise history – giving up 59 points to the Baltimore Ravens – and seem to have taken this whole 'tanking' idea for a better draft pick to a whole new level heading into this week's game against the defending Super Bowl champs.
Speaking of those champs from Foxboro, the Patriots are living their best life right now after winning their season opener by 30 points – and now, they add wide receiver Antonio Brown to the mix after he signed with the team following a drama filled exit from the Oakland Raiders. Baring a massive weather system slowing down the passing game, this could get real ugly really quick inside Hard Rock Stadium.
Miami Hurricanes vs. Bethune Cookman Wildcats (Saturday)
One day before, the 'Canes play the first of five straight games inside their home stadium still looking for their first victory of 2019 – something that is even crazier when you consider they have leads late into the fourth quarter of both losses to Florida and North Carolina, but still left with a loss in each case.
For Miami, the pressure now rests on the defense – which has been a staple for the past few seasons – while the offense might have found their new leader in quarterback Jarren Williams, who has thrown for over 520 yards and three touchdowns to start his college career.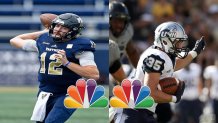 FIU Panthers vs. New Hampshire Wildcats (Saturday)
After being blown out in their opener, the Panthers were right on the goal line of getting their first win last week before Western Kentucky came up and got the big stop to give head coach Butch Davis' team their second loss of 2019. The men from Southwest 8th Street are going to need a much better start from quarterback James Morgan, who has combined to throw for just 233 yards in both games this season.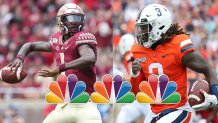 Florida State Seminoles at Virginia Cavaliers (Saturday)
For the first time it seems, the words 'Wide Right' were not a slur toward the Noles after a missed extra point saved them from an embarrassing loss to Louisiana Monroe last weekend. At 1-1 on the season, head coach Willie Taggart knows his seat will warm big time with a second loss this weekend, as the defense must find a way to stop the bleeding that has seen them give up over 1,000 yards in the first two weeks.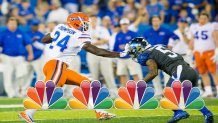 Florida Gators at Kentucky Wildcats (Saturday)
For the first time in over three decades, the Gators come into this annual SEC battle looking to break a winning streak from their foes from Lexington. Last season's upset win in Gainesville paced a season in which both teams finished with 10 wins – while Florida head coach Dan Mullen still doesn't know what to make of his team after the comeback win over Miami and a shutout victory last weekend against Tennessee Martin.
Other State Games
The UCF Knights host one of their bigger games in program history when they face the Stanford Cardinal while the rival USF Bulls still look for win number one on the season against South Carolina State. FAU hits the road to take on Ball State while FAMU makes their 2019 home debut against Fort Valley State.
In the pro game, the Jacksonville Jaguars head into divisional play against the Houston Texans with both teams looking for their first win of the season – while the Tampa Bay Buccaneers got their first 2019 victory with a fourth quarter goal line stand to beat the Carolina Panthers.