What to Know
Playing almost annually from 1938 until 1987, the teams fought it out for state bragging rights.
The helmets are strapped up, the field has been painted, the fans are ready to go – college football season is here and starting the way it should: with a Sunshine State showdown!
For years, the annual battle between the Miami Hurricanes and the Florida Gators was not just a rivalry in the state of Florida – it was THE rivalry in the state. Playing almost annually from 1938 until 1987, the teams fought it out for state bragging rights. But with Saturday's game being just the seventh meeting since, it has become a treat for college football fans across the country.
With the start of the season and the 'Canes and the Gators duking it out, it also marks the return of our not-so-scientific NBC 6 ranking system.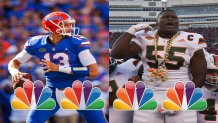 Florida vs. Miami (Saturday in Orlando)
I mean, did you really expect this to get anything but the most peacocks possible? Like I wrote before, this is going to be just the seventh time in the last 32 seasons that the Gators and Canes have met – with two of those times being in bowl games.
While Miami has won five of the last six meetings since the yearly series ended, Florida comes in with an advantage in this game as they are ranked No. 8 nationally and return quarterback Feleipe Franks – a junior who at times last season played like a bum and other times like an All-American.
The 'Canes, on the other side of the spectrum, are starting redshirt freshman quarterback Jarren Williams – a former top high school recruit that surprised many outside of the Coral Gables campus when head coach Manny Diaz, making his first big decision as head coach, selected him.
If Miami is going to pull off the upset, they are going to need a big game from their defense – returning top players like linebacker Shaq Quarterman – while the Gators and head coach Dan Mullen have dealt with an offseason that has included arrests, transfers and injuries.
Saturday's game will be the 56th meeting between the rivals and the seventh that has been played on a neutral site. It's the second time they have met in Orlando, with the Gators getting a 19-10 victory during the 1976 season.