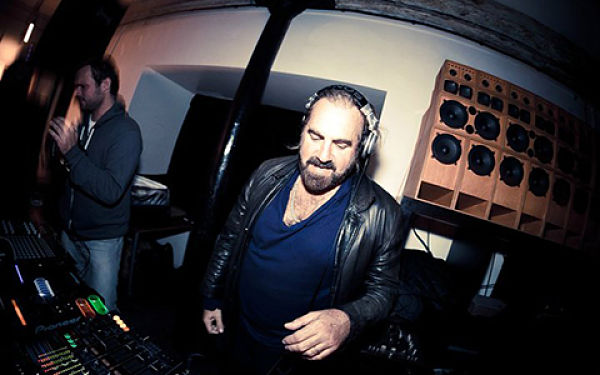 Producer/DJ/Hitmaker Arthur Baker would be a legend even if he hadn't given New Order their "Confusion" and Hall & Oates their Big Bam Boom, or aided and abetted the likes of everyone from Dylan and Springsteen to Diana Ross and Al Green. Why? Because Baker produced "Planet Rock", and he's spent every racket-making moment since keeping the kinda open mind which made that track so legendary. This Wednesday Baker legends-up at The Shore Club alongside Felix da Housecat, DJ Pierre and Tommie Sunshine for Return to Chicago; then on Sunday, it's off to The Vagabond for Everybody, an all-star gathering of the tribe in tribute to the legendary Mark Kamins. If you ever wondered what becomes a legend most, now's your chance to find out.
What's the story behind The Shore Club storming? Believe it or not the idea came from a Twitter thread started by one of Tommie's followers, who suggested that me, Pierre and Felix should play together- all Chicago cats but me- ts Felix and I did a track called "Quiet Riot" by The Crazies in 2000
This ain't your first Return rodeo, is it? I had a party that was the top party in London from '02-'06 called Return to New York which launched such acts at LCD Soundsystem, 2 Many DJs, Mylo etc. We actually had a few in Miami too -- we brought in the aforementioned plus The Rapture to Soho Lounge in '04, and we did a party at The Shore Club in '06. We also a did Return of the Bass party with 2 Live Crew.
What is it about Then that you believe to be vital to Right Now? Chicago is the birthplace of house music, which obviously had much to do with the development of EDM -- in fact, it's partially their fault!!!!
Speaking of Then, you're also behind a memorial spin for the legendary Mark Kamins, how far back did you and he go? Mark and I met around 1980, I use to bring him acetates at Danceteria, Mars and The Harem -- where I would hang with you also.
What kinda impact do you think he had on the way the world now spins? Mark was a fearless DJ -- world-traveling when no other DJ was; he played sirens, Middle Eastern chants and hip hop mash way before the term balearic existed.
Would it be fair to say Mark Kamins helped paved the way for the madness that is Miami Music Week? Mark gave madness a new definition when it came to celebrating music and partying -- he was still the life and spirit of the party and fully into music past, present and future till the day he died. RIP, brother.
Return to Chicago with Arthur Baker, Felix da Housecat, DJ Pierre and Tommie Sunshine takes place Wednesday March 20 at The Shore Club. Everybody: A Gathering of the Tribe in Memoriam of Mark Kamins with Arthur Baker, Jellybean Benitez,Todd Terry, Freddy Bastone, Mr. Pauer, Ray Milian, Gabby Meija, Richard Vasquez, Tony Garcia, Victor Simonelli WorldWarWalter and Krisp takes place Sunday March 24 at The Vagabond.