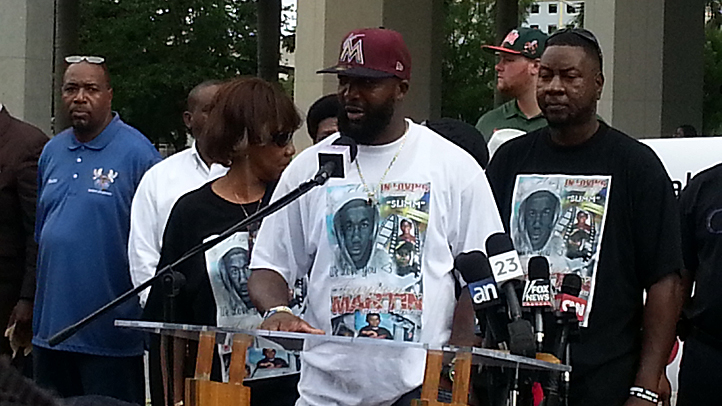 Nearly 1,000 people participated in a peaceful rally in Miami's downtown federal courthouse Saturday to press for federal civil rights charges against George Zimmerman, who was found not guilty in the death of Trayvon Martin.
The rally was one of 100 "Justice for Trayvon" rallies in various cities and organized by the Rev. Al Sharpton's National Action Network to press for federal civil rights charges against Zimmerman.
Mother Sybrina Fulton and her son Jahvaris Fulton attended the New York City rally with Sharpton, while father Tracy Martin spoke in Miami, thanking people for their support.
"It just feels good to know that people care, white, black, Hispanic," he said. "It's a mixture of people out there and that feels good."
Protestors chanted and sang, holding up signs that read "Justice for Trayvon," while several lined up to buy T-shirts.
Several people spoke including church leaders, community activists, Miami Dade commissioner Jean Monestime and Congresswoman Frederica Wilson, all asking for peace and change.
"We have our right to freedom of speech and freedom of petition, so I'm just practicing my rights. So I feel like it's helping a lot," protester Brandi Jean-Baptiste said at a Friday rally in North Miami.
Organizers also called for a repeal of Florida's Stand Your Ground statute.
"I don't think we can change it but I think we can make amendments to appeal," Tracy Martin said.
There was a sit-in at the governor's office earlier in the week, and Gov. Rick Scott told protestors the law is staying in the books.
"I am not going to call a special session, I don't believe right now that Stand Your Ground should be changed," Scott told a group of activists who met with him Thursday night. "But I will tell you right now, I appreciate you."
On Friday, President Barack Obama talked extensively for the first time about Martin and the Zimmerman case since the jury rendered its verdict.
"There are very few African American men in this country who haven't had the experience of being followed when they were shopping in a department store. That includes me," said the president. "There are very few African American men who haven't had the experience of walking across the street and hearing the locks click on the doors of cars. That happens to me, at least before I was a senator."
Copyright AP - Associated Press