Say goodbye to CocoWalk as you once knew it. The mall located in the heart of Miami's Coconut Grove neighborhood is about to undergo a major transformation.
The new owners behind CocoWalk's redevelopment revealed images of the makeover that's expected to bring revitalize the aging mall.
The new CocoWalk will feature open-air plaza, cafe seating, water features and foliage evoking the neighborhood's tree canopy intended to blend in with the neighborhood.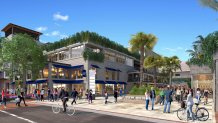 The mall's new look will include a mix of well-known and local retail brands, while also bringing fast-casual and sit-down restaurants.
Renovations to the existing retail space on the center will begin summer with an expected completion date of mid-2018.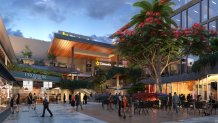 News of the makeover comes following the start of construction on One CocoWalk, a 78,000-square-foot office building that will rise on the east side of the property.
Federal Realty Investment Trust, the Comras Company and Grass River Property purchased CocoWalk in late 2015.
"We love the Miami market and Coconut Grove in particular, but ensuring success in retail today goes far beyond making cosmetic design changes," explains Chris Weilminster, president of the mixed-use division at Federal Realty Investment Trust. "We're going to inject CocoWalk with newer, cooler, hipper brands while improving integration with our neighborhood's urban grid."