What to Know
All 'Do Not Disturb' signs have been replaced with 'Room Occupied' signs.
Disney employees can now enter your room as they please. They will knock and announce themselves prior to entry.
Disney cites maintenance, safety and security reasons for the new changes.
If you're planning on staying at a Walt Disney World Resort sometime soon, don't expect to have total privacy, thanks to a new policy that's been put in place.
According to the Miami Herald, the hotel has removed all of the "do not disturb" signs from the Contemporary, Grand Floridian and Polynesian resorts on Friday and replaced them with "room occupied" signs.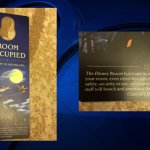 The new policy, which can be found on the signs, states that a Walt Disney World cast member will go into the room at least once a day, citing maintenance, safety, security or any other reason, even if the sign is placed on the door. Cast members will knock and announce themselves before entering the room.
"The hotel and its staff reserve the right to enter your room for any purpose including, but not limited to, performing maintenance and repairs or checking on the safety and security of guests and property," Walt Disney World said in a statement.

The new security procedures come just four months after a man checked into a Las Vegas hotel with several suitcases filled with weapons and shot and killed 58 people and injured hundreds more from his room.
The Contemporary, Grand Floridian and Polynesian hotels all surround the Magic Kingdom theme park.
It's expected that Walt Disney World Resort will roll out the new security measures for all hotels in the coming weeks.