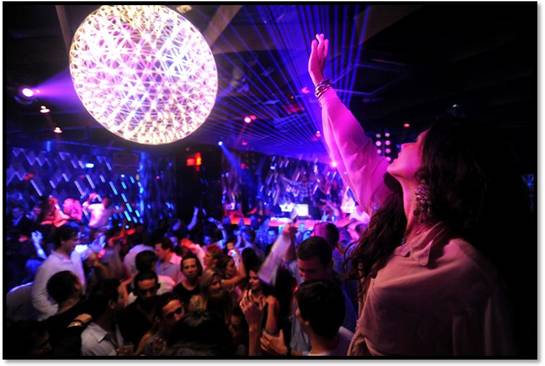 There is no doubt Miami and our sultry surrounding neighborhoods are party destinations when it comes to New Year's Eve. But with hundreds of parties taking place, it can be hard to find the right spot. Well, that is why you have us.
From $100,000 tables at Cameo to a completely free waterside party over at Bayfront, here are 10 soirées this NYE weekend we suggest you don't miss.
Saturday, December 29th
Cafeina 297 NW 23rd Street, Miami
This is what we like to call "the early bird special." Cafeina, one of the chicest lounges in the Art District, is hosting a pre-NYE bash featuring Grey Goose, bubbly bottle specials and beats by DJ Supersede. The best part? You can be the first to try Beck's new premium beer Sapphire, available complimentary from 10 to 11pm.
Delano 1685 Collins Ave, Miami Beach
There is a good chance you have a four-day weekend ahead of you. So why not take advantage of it? FDR at the Delano is bringing their signature party, NY <3's FDR Saturdays, to a new level. For the last weekend of the year, Rev Run and DJ Ruckus will take over the subterranean hot spot for an incredible evening of music. Partygoers are invited to dance the night away alongside the gifted pair's intimate performance. Up close and personal with an icon? No better way to kick off 2013.
Sunday, December 30th
Story 136 Collins Ave, Miami Beach
Does anything say Miami more than Tiësto? The mega DJ will be taking over South Beach's recently opened Story Nightclub this Sunday. Never heard of it? We doubt it seeing that it is the talk of the town. Check it out this weekend or any day of the week because for their grand opening, they have brought in the biggest name in beats.
Monday, December 31st
The Hoxton 1111 SW 1st Avenue, Miami
They call Miami the Magic City for a reason and Brickell's new hot spot, The Hoxton, is bringing it to life. For any attendee, you have one of three packages including a three-course meal with an appetizer, entrée and dessert ($85/person), a three-course meal and a bottle of Veuve Clicquot ($115/couple), or Bottle Service plus a table for four people (beginning at $250.) What is your best bet? We say bottle service, but getting yourself through this door will be a guaranteed good time.
The Shelborne 1801 Collins Ave, Miami Beach
How about a corona, a lime and a good time? The Shelborne South Beach will be "Buzzin" to celebrate the arrival of 2013 poolside with a live performance by indie hip hop artist Shwayze. Not only are tickets reasonable at $95, it includes open bar all night long.
The Forge 432 41st Street, Miami Beach
Want to keep it to dinner with no dancing? Look no further than the legendary Forge Restaurant. The annual New Year's eve celebration will offer three exclusive dinner packages including a three-course early bird special ($95/person,) a four-course option with dinner and music by DJ Joe Dirt ($350/person) and a late-night bar option with light bites, Veuve Clicquot and a premium open bar ($85). But a word for the restaurant wise: make a reservation.
WET at W South Beach 2201 Collins Ave Miami Beach
It's Miami - why wouldn't you party poolside? Guests will welcome 2013 in decadent fashion as the hotel's outdoor oasis is transformed into a fully functioning nightclub, featuring LED screens, special effects, laser lighting and lounge seating atop a glass-covered pool deck. Individual tickets might cost you a costly $250 but it does include premium open bar (9 p.m. to midnight) and a champagne toast.
Cameo 1235 Washington Avenue, Miami Beach
Here is where VIP and VVIP come into play. New Years Eve at Cameo on South Beach will have several open bars till 12am, a complimentary midnight toast, and chic VIP seating for you and all of your guests. For all of you just looking to get through the door, it will cost you $250. But if you have an extra $100,000 on hand, they also have something for you. For the ultimate VIP Package, Cameo and Moet Rose is pulling out all the stops with a $100,000 table that includes including 50 bottles of Moet Rose, 10 bottles of Belvedere, multiple bottles of Hennessy VS and a night out with Future at the recording studio.
Delano 1685 Collins Ave, Miami Beach
If there is one thing the Delano has down it's how to throw a great party. Their Beach Club is ringing in the New Year with a special poolside performance by Santigold, plus sets by DJ Ideal and DJ SOL. Tickets are $150 per person and include a champagne toast at midnight. They also have cabana and daybed reservations available for anyone looking to take a quick siesta during the fiesta.
Bayfront Park 301 Biscayne Blvd, Miami
After nine fabulous events that are going to cost you a pretty penny, we found one that too is fabulous and free. Bayfront Park is hosting a New Year's Eve extravaganza with New York-like fun. The Big Apple might have the ball that drops, but we have a neon orange rising to the top on the side of the InterContinental Hotel. There will be a fireworks display, laser light show, a dance party with music by Tony the Hitman and "La Gran Naranja" reaching the top at the stroke of midnight.