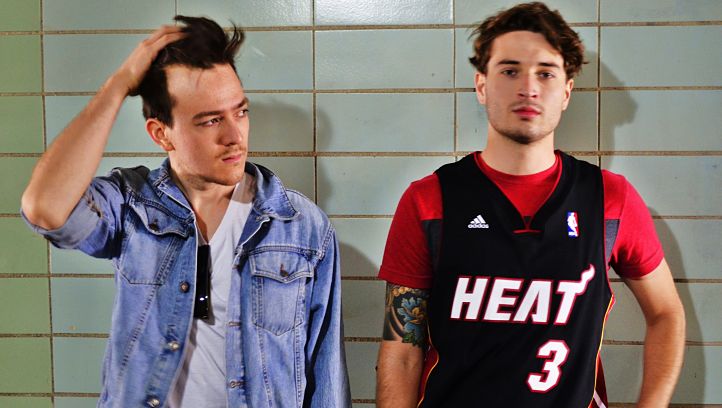 They may be the closest thing Miami's got to The Black Keys; thing is, they could also be the closest thing we've got to a stripped down Dead Boys too. They're rooted in pure punk, informed by hardcore, and unswayed by anything that gets between them and their roar. They are Deaf Poets, and they are taking to the stage at Churchill's to mark the release of "This Pain", out exclusively through Sweat Records' own Sutro Music.

For those who don't yet know, who (and what) is Deaf Poets? Deaf Poets is a two-piece garage rock punk band formed in late 2009. It consists of Nicolas Espinosa on drums and me, Sean Wouters on guitar and lead vocals. The band was inspired after our last band broke up and through some last-minute practices and jams we came out with our self titled EP "Illustrious Punks of Progress", and our first two music videos for "It's Alright" and "All Your Lies". From late 2009 to the present we've grown and matured our sound with diverse inspirations going back to classic throwbacks Muddy Waters and Chuck Berry to today's popular acts; The Raconteurs, My Morning Jacket, and Iron and WIne.

We love playing and writing together, it's all we've ever dreamt of doing and we're so excited to finally release and share a product we're proud of this Saturday!

Any story behind the name? When Nicolas and I were killing our time in our boring retail jobs we came across the pre-mature name The Dead Poets. With Myspace being already over run with metal bands under that name, we changed it to Deaf Poets which stuck and became official.

What's goin' down this Saturday night? This Saturday we're releasing our first 7 inch vinyl through our well respected friends at Sutro, the resurrected label founded by Sweat Records owner Lauren Reskin. The record is a limited edition print of 400 of which 100 are translucent gold. The show will be showcased by our favorite local pub Churchill's and we will be having Arboles Libres and North&South as our supporting acts.

Will this be DP's first waxing? Yes it is, It's our first official release and the first to printed on wax!

How'd you get connected with Sutro anyway? Nicolas and I always respected Lauren's hard work in Miami's growing music and art scene. She always seemed to be responsible for anything cool that happened here including Sweatstock and giving us the opportunity to perform with famous rockers Ted Leo and The Pharmacists and at the kick-off party for Bruise Cruise 2012. Eventually we spoke about working together on getting something out on record and here we are. I think we see more releases in the future!

Any idea what that name means? It's short for subtropic, an ode to Miami's location and humidity.

Deaf Poets 7" Release Party Saturday June 2 at Churchill's. For more information log on here.