The National Oceanic and Atmospheric Administration is predicting a "near-normal" 2023 Atlantic hurricane season, with 12-17 named storms expected.
Of those named storms, five to nine are expected to be hurricanes and one to four could be major hurricanes, according to NOAA administrator Dr. Rick Spinrad, who delivered the outlook during a virtual media briefing Thursday.
"It's time to prepare," Spinrad said. "Regardless of the statistics I shared, if one of those named storms is hitting your home, your community, it's very serious."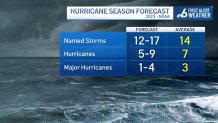 June 1 marks the official start of the hurricane season, which runs through November 30.
NOAA's updated predictions will be issued in August, before the peak of hurricane season.
NOAA's averages for the Atlantic hurricane season are 14 named storms and seven hurricanes. The average for major hurricanes is three.
The 2022 Atlantic hurricane season tallied 14 tropical storms of which 8 reached hurricane status. Two of those, Fiona and Ian, became major hurricanes.
Hurricane Ian became one of the most devastating hurricanes to hit Florida after it struck Cuba in late September.
Ian made landfall in southwest Florida as a large Category 4 monster, with a wall of water up to 15 feet tall that killed well over one hundred people. Ian also inundated inland parts of the state with up to 2 feet of rain and major river flooding.
Late-season Hurricane Nicole struck Florida on November 9. It was the first hurricane to make landfall on the east coast of Florida since Katrina in 2005, and only the second hurricane on record - dating back to 1851 - to strike the Sunshine State in the month of November.
Despite being a low-end Category 1 hurricane, Nicole's storm surge wreaked havoc along the northeast coast of the state, where many coastal homes and businesses were taken by the sea.