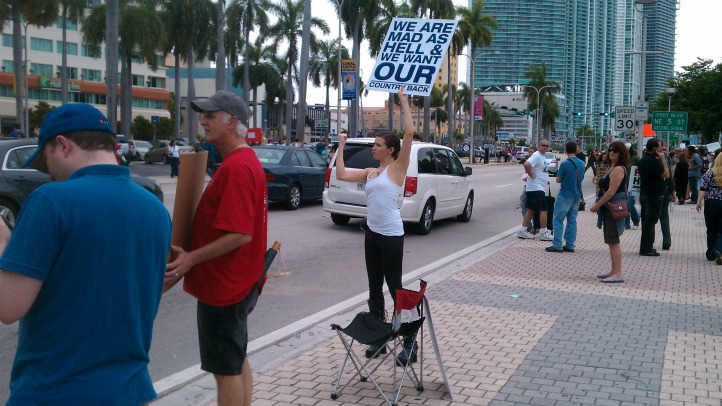 Less than a day after getting booted out of County Hall by Miami-Dade Police, members of Occupy Miami planned to meet back at their former stomping grounds to regroup.

On Wednesday police released the names of the six individuals arrested on Tuesday. They include, Chris Booty, Jared Chase, Juan Sanchez, Alejandro Ordanes, Carlos Miller and Ryan Williamson.

Most of those arrested were charged with loitering and prowling, while one was charged with obstruction and another with inciting a riot.

Occupy Miami member Stephanie Garcia said that the charges were trumped up and that the only group that show any violence were police.

"Two of the people arrested were dancing and chanting to the rhythm of police banging their batons on their shields," she said. "There wasn't any intention or violence from our members."

The same could not be said about police, she said.

"Their show of force was absolutely excessive. They tried using intimidation by banging their batons on their shields and marching forward with weapons."

"Our members were standing there with a dreamcatcher and flowers," she said.

Garcia went on to say that even after most of the group had vacated the area where they were asked them to leave, police kept pushing them.

"We had left the area and they decided to push us further back," she said.

When contacted by NBC Miami, police declined to comment on the situation.

Despite being manhandled, Garcia said police would not succeed in holding the group down.

"They may have taken away our centralized location and our 24-hour presence but we are going to re-evaluate our position and come back bigger and stronger," said a defiant Garcia.

The planned strategy meeting is to take place at 2 p.m. but go well into the afternoon with some members of the group planning to show up after business hours at 6 p.m.

As well as the Wednesday meeting, Occupy Miami plans a solidarity march with other Occupy movements across the county at the Torch of Friendship Monument on Biscayne Boulevard.