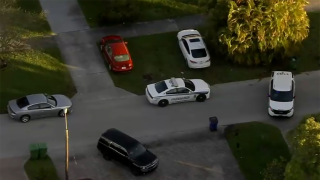 A police officer was forced to open fire after responding to a call in Hallandale Beach early Monday morning, officials said.
Police said they got a 911 call about a dead body in the area near the 1100 block of Northeast 10th Street around 7:15 a.m.
When officers arrived, they found no body but did find a man with a weapon in the area.
An officer was forced to open fire, striking the man police said. He was taken to a local hospital, where his exact condition was unknown. The officer was not hurt.
"The officer was in fear for his life and safety, we're still investigating the reasons behind that," Hallandale Beach Police Capt. Ra Shana Dabney-Donovan said.
Officers said a revolver handgun was located at the scene.
The Florida Department of Law Enforcement is investigating the shooting.