Both on-site parking and a downtown Miami Park & Ride will be available for baseball fans attending the Home Run Derby and the All-Star Game at Marlins Park next week.
On-site parking is available for $30 but is expected to sell out. There will not be any day-of event parking available Sunday through Tuesday.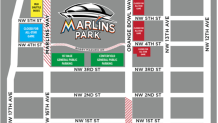 Once the on-site parking is sold out, fans are encouraged to use the $20 Park & Ride option. Shuttles will pick fans up at 220 NW 3rd Street. Fans can park in the West Lot Garage at that same address.
Shuttles will drop fans off at along NW 14th Avenue south of Marlins Park. It will run between 5 p.m. and midnight Monday and Tuesday.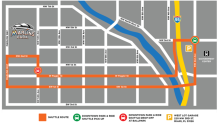 St. John Bosco Catholic Church will be a ride share lot for fans who use Uber or Lyft to arrive at or leave Marlins Park. The lot will be open between 6 p.m. and midnight Sunday, Monday and Tuesday.
A taxi stand will be located at NW 16th Avenue and NW 6th Street.
For more on ways to get to Marlins Park during All-Star Week, click here.