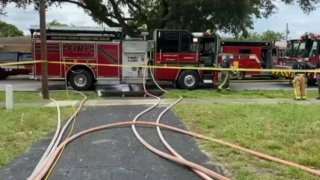 A retired City of Miami firefighter is dead after rescue crews battled flames at a Broward home Sunday afternoon.
According to Broward Sheriff's Fire Rescue, nearly thirty firefighters responded to a home in Cooper City where gray smoke was seen billowing from.
Within 20 minutes, crews were able to extinguish the blaze, which officials say was primarily located in the living room.
One person, an 80-year-old retired City of Miami fireman, died as a result of the fire.
In a statement on Monday, Miami Fire officials realsed this statement:
"It is with great sadness that we announce the untimely passing of retired Miami Firefighter Leonard Estes Jr. on July 12, 2020. Firefighter Estes joined the Miami Fire Department in 1966, serving the residents of Miami for 17 years before retiring in 1983. As a young man, he was no stranger to the fire service. His deceased father, Miami Firefighter Leonard Estes Sr., was one of the first paramedics with the City of Miami and served 25 years before retiring in 1959."
The cause of the fire is currently under investigation.