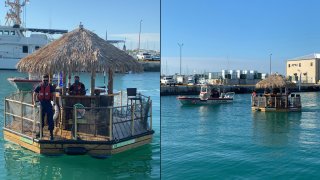 A man who appeared to be intoxicated while onboard a stolen, floating tiki hut was arrested in the Florida Keys on Wednesday, authorities said.
U.S. Coast Guard officials said the vessel was found near Hawk's Channel off Key West.
The man on board, who appeared to be intoxicated, was taken into custody by the Florida Fish and Wildlife Conservation Commission, officials said.
The Coast Guard posted photos on social media of members on the deck of the floating bar.
FWC officials said the man is facing charges including grand theft and resisting an officer without violence.