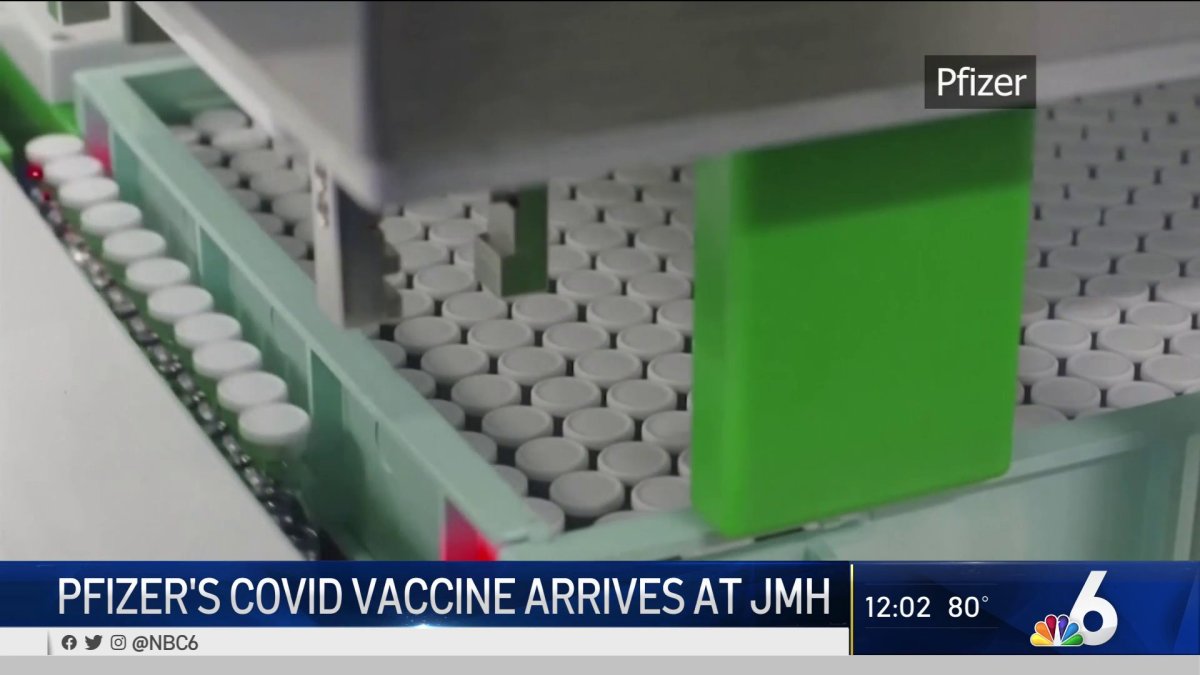 For a few hours Monday afternoon, ICU Dr. Ari Sareli was away from the patients he treats who have COVID-19.
Sareli, with Memorial Health in Broward, was the first person in South Florida to get the COVID-19 vaccine shot.
"It was really an honor to go first," Sareli said with a bandage on his left arm.
Alberto Augsten was among the first 10 frontline workers from Memorial Heathcare to receive the vaccine Monday. He's the manager of Memorial's Clinical Pharmacy and a toxicologist.
"Knowing that today was the first day it was available, it was just touching and heartwarming to be a part of that," Augsten said. "It was something I could never say no to."
He spoke to NBC 6 over Zoom a few hours after he received his shot. 
"The individual that gave me the injection did a great job," said Augsten. "Probably within 15 mins I felt some discomfort in the muscle...For the most part, that pain has subsided. I have no more pain. I don't have any other symptoms. I feel fine. I feel like myself."
Memorial Healthcare System CEO Aurelio Fernandez said the vaccine development was an incredible medical, research, and logistical accomplishment.
"This is an historic event. We have been in this journey now for 10 months. Our first patient came to us March the 7th," Fernandez said Monday.
Sareli's landmark shot brings hope that the pandemic won't always be with us. In the line behind him were other Memorial Healthcare workers who also spend their days treating the sickest patients.
"On an important note, I think that the COVID-19 vaccine offers us our first real hope in curbing the epidemiology of this virus and really making an impact in the community," Sareli said.
Memorial Health set up an entire operation to receive the vaccine, store it, and then deliver 120 shots an hour.
"I want to emphasize to our employees and to our medical staff that this vaccine has been shown to be 94% effective," Chief Medical Officer Tom Macaluso said.
Dr. Dorinda Segovia was one the Memorial's doctors who set up the operation where they are actually giving out the shots.
"We have a vaccination wave for our employees, our first line employees, and we are also ready to help our community hospitals," Segovia said.
For these frontline workers, who for almost 10 months now have been directly impacted by the pandemic professionally and personally, this was the day they've been waiting for. 
"I think getting it is a sign of strength and showing others that I know, others that I oversee, my peers, my friends my family, saying, 'Listen, I'm not only telling you to get it, I'm doing it myself,'" Augsten said. "Practicing what we preach, saying this is something that we believe for it to be safe. And, join us on this journey, so hopefully, we can inspire others to do the same."
The vaccines left Michigan Sunday and overnight made the way to South Florida.
"We project about 1,100 or 1,200 vaccines everyday in this facility," Fernandez said.
Despite the hope the vaccine brings, the experts said even if you get the shot you still have to be careful.
"The vaccine will take time to create immunity," Segovia said. "We also do not know what kind of exposure we have had until the time of the vaccine. So masks on at all times, it doesn't matter if you are vaccinated. That's the way we are going to protect our families and our communities."
Fernandez said taking the shot is voluntary and they have a system on line where workers can sign up. He thinks they will use about 7,000 doses and then share the rest with five other Broward hospitals.
The National Guard and Department of Heath will handle nursing homes.