A cat by the name of Coco remains trapped in one of the apartments of the Champlain Towers South.
The small cat was trapped after his 89-year-old owner and her daughter were fortunately rescued from her apartment on the corner of the fourth floor of the south tower.
Fire rescue crews cannot enter at this moment to look for Coco due to the unstable conditions of the surrounding debris, but for now have used a cherry picker to leave food and water on the balcony for the kitten.
Another pet that is trapped in the rubble of the Champlain Towers South is another cat, Mia.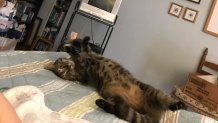 Mia was stuck on the 10th floor, but unlike Coco, Mia's balcony is not open, so her owner fears that she'll starve to death.
She is hoping the rescuers can at least open the balcony door to also leave some food and water, since they do not consider the structure safe enough to go inside.
City of Miami Commissioner Ken Russell stepped into action as soon as he heard about pets being left behind.
"We began creating a process through which they can find their pets, reload or reunify with them and get them care," Russell said.
Anyone who lives in the Champlain Towers condo complex and is missing or lost a pet is encouraged to call the Friends of Miami Animals hotline at 833-366-2642.