A South Florida pediatrician is now behind bars and facing several child pornography charges, according to Broward Sheriff's Office.
Deputies arrested Michael Mizrachy, 49, on Tuesday after the department's Internet Crimes Against Children unit received a tip concerning Mizrachy last June.
He was given a $10,000 bond for each of the three counts - two counts of possession of child sexual performance and one count of child pornography possession - and ordered not to have contact with any children except for his own child, who Mizrachy can only see with the child's mother present.
Detectives said they found a video in Mizrachy's possession that appeared to show a sexual encounter between an adult male and a child between the ages of eight and 10 years old, matching what was described in the tip.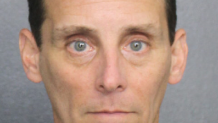 Authorities also found several photos that appeared to be show young children wearing bathing suits, underwear or shorts, according to an incident report. The children appear to be unaware that they were being photographed.
"This is a very disturbing case," said Lieutenant Andrea Tianga, executive officer of the strategic investigations division at BSO.
Tianga noted that the photos appeared to have been taken at Mizrachy's house, "so it was a huge concern that he was having access to children not only through his employment but at his residence."
Get South Florida local news, weather forecasts and entertainment stories to your inbox. Sign up for NBC South Florida newsletters.
The discovery of the photos led detectives to generate another search warrant for Mizrachy's Parkland home, where they learned he used an app to engage in sexually explicit chats with a 15-year-old child.
"We found evidence that he was chatting with potentially a teenager online using the app Kik," Tianga said.
Mizrachy was booked into the BSO main jail, where he faces several child porn-related charges.
"We are shocked and deeply disturbed by these accusations. Dr. Mizrachy's employment was terminated last year and he is no longer associated with our practice," West Broward Pediatrics said in a statement.
"We have no evidence that any crimes were committed in the course of his professional duties. We have been in close communication with our patient families, referral sources and others to reaffirm our absolute commitment to the health and wellbeing of our patients," the statement read.
State Sen. Lauren Book posted a message on Twitter saying her children had been patients of Mizrachy and she was "caught off guard" by the arrest.
"No alarm bells went off. Nothing," Book wrote. "Let this serve as a warning — ANYONE can be a predator, regardless of profession, level of education, interpersonal skills, zip code, etc. If I can be caught off guard, anyone can."
Detectives are looking for any more possible victims of Mizrachy, and asking anyone with additional information to contact Broward Crime Stoppers at 954-493-TIPS.
"We are urging parents that may have information to come forward please," Tianga said. "Currently we don't have information that he's a hands on offender, but that is a huge concern when you're dealing with someone that you're giving the trust with your child."