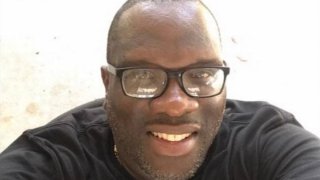 What to Know
A 15-year-old has been arrested in the killing of Miami Senior High football coach Corey Smith
Smith was found shot to death Monday at his home in Miami-Dade
Police said the teen was the only other person at the home when Smith was killed, and had previously lived at the home
A 15-year-old was arrested in connection with the fatal shooting of Miami Senior High School head football coach Corey Smith, authorities said Thursday.
Smith, 46, was found shot to death Monday inside his home in the 2100 block of Northwest 97th Street.
The teen was arrested Thursday afternoon and faces second-degree murder and grand theft charges, Miami-Dade Police said.
The teen was the only other person in the house at the time of the shooting, police said. Authorities initially questioned and released the teen on Tuesday.
According to an arrest report, the teen told investigators that he was in a bathroom of the home when he heard gunshots and found Smith lying on the floor of his den unresponsive.
Instead of calling 911, the teen called his mother, who came to the home and called police, the report said. When officers arrived the teen and his mother were outside the home, the report said.
Inside the home, detectives found a 9mm Beretta pistol and six spent shell casings, the report said. They also found a large amount of money, totaling about $7,500, bundled in rubber bands among the teen's personal property, the report said.
Smith's wife told investigators he owned the pistol and kept a large amount of cash in rubber bands in his bedroom, the report said.
The report said the teen had previously lived at the home and was "familiar with the residence's layout."
Then, on Wednesday's the teen's mother told investigators that her son had confessed to her that he killed Smith, the report said.
The teen was arrested Thursday and authorities said they were not looking for other suspects.
The teen was placed in juvenile detention and made his first appearance in court Friday morning. During the hearing, the teen's attorney said he had been declared incompetent at least four times in the past two years, and asked for the teen to undergo a psychological evaluation while in detention.
The teen is the son of Lamar Alexander, one of two suspects in a December 2019 Coral Gables jewelry store heist that led to a hijacking of a UPS truck and chase that ended with a shootout in Miramar.
Alexander, another suspect, the UPS driver and a bystander were killed in the shootout.
Officials said Smith and Alexander grew up together and were close but not biologically related.
Officials said Smith, in addition to coaching football at Miami Senior High, was a PE teacher at Charles R. Drew Elementary School.
Miami-Dade County Public Schools Superintendent Alberto Carvalho said Smith worked for the district for two decades.
"Our entire football program is deeply saddened to learn of the passing of Corey Smith. Our condolences go out to his family and the entire Miami High community," University of Miami head football coach Manny Diaz tweeted earlier this week.