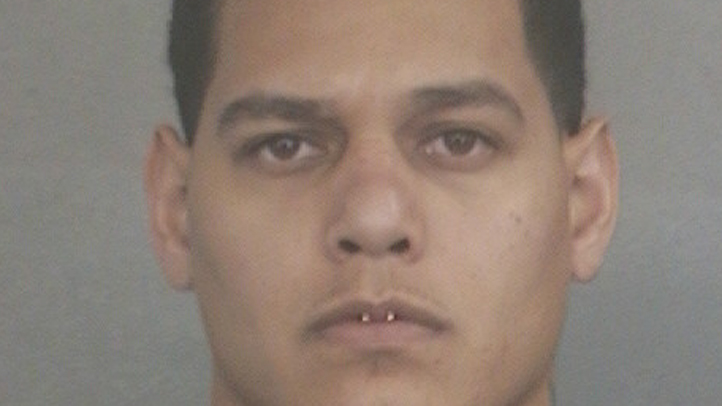 Authorities on Thursday named a person of interest in the homicide of a Weston man.
Kris Smalls, 42, was reported missing in March and found dead in his car a week later, authorities said.
Detectives with the Broward Sheriff's Office said they are looking for Felipe Alex Torrealba, 25, who is believed to be in South Florida.
Torrealba has a record of prior arrests and a warrant for his arrest in Broward and Miami-Dade counties on unrelated charges, the BSO said.
Authorities said they believe Torrealba may be with his girlfriend, Dayana Garcia, who is either nine months pregnant or may have recently given birth. They said the duo is likely living in South Florida and may be driving a silver 2009 Toyota Camry.
Torrealba had a run-in with Sweetwater Police in January when he prompted officers to shoot at him when he was pulled over for driving a stolen car, the sheriff's office said. He had one bullet graze his head and go through his ear but was able to flee, police said.
"I am asking Mr. Torrealba to please contact me, so that we can take care of his existing cases without armed confrontation on the streets that I think is going to end badly," said his attorney Jim Lewis.
Lewis added that Torrealba hasn't contacted him in two or three months.
The BSO's search for Torrealba has included the Oakland Park neighborhood where records show he lived in a townhouse on NW 30th Place. A woman living at his given address told NBC 6 Thursday that he hasn't lived there for three years.
She said investigators searched her home several times in the past week before ruling it out as a possible hideout.
Anyone with information about Torrealba's whereabouts or the homicide can contact BSO Homicide Detective Valerian Perez at 954-321-4210 or report information anonymously to Crime Stoppers of Broward County at 954-493-TIPS (8477) or online at www.browardcrimestoppers.org.