During pregnancy, some women struggle with feeling beautiful and normal. And, it's worse for expectant moms who are on bed rest. That was true for Ayeisha Solomon who was on bed rest for two months of her third trimester.
Doctors ordered the 39-year-old to stay in the hospital due to complications during her pregnancy. Even though Solomon was excited about carrying twins -- a boy and a girl -- she was still worried that she would not get to enjoy a baby shower or a maternity photoshoot.
"The fact that you're on bedrest that means there's something happening that's not entirely normal and you may feel distraught and may feel depressed," Solomon said. "But, there's some part of the experience that you actually get to enjoy."
A bedridden Solomon got to enjoy a maternity photo shoot thanks to photographer Alexis Beckford-Knighton. A nurse at the hospital told her about Beckford-Knighton's work with bed rest mothers. The photographer is the founder of Aquas Images and has recently focused her photography on pregnant moms who are confined to a hospital bed.
"An opportunity like this allows persons who are on bed rest to kind of not feel left out," Solomon said with a huge smile.
The day Beckford-Knighton arrived at the hospital, she brought along a glam squad. Solomon was overjoyed.
"I'm enjoying the makeup session, so far. I don't do this often and I'm not in front of the camera often. So, it's just surreal," the pregnant mom said.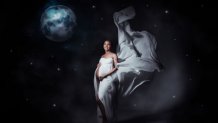 Beckford-Knighton started doing bed rest glam shots last year after her close friend wanted a maternity photoshoot even though she was stuck in the hospital. When she posted the final pictures and the mom's story to social media, other bedridden mothers immediately reached out to the photographer.
"There's beauty in the struggle," Beckford-Knighton said. "It's a hard time, you can still smile and you can still be gorgeous."
Solomon's final photo has no evidence that the bedridden mom posed just inches away from her hospital bed. The photographer created a new world outside the bland walls that surrounded them. She creates the magic with her editing skills.
"When I walk into the hospital and I'm in such a small space, I don't see it. I'm already thinking of the big picture. I literally just need their body," Beckford-Knighton explained.
"For all of this to happen now, it's just like is almost surreal, like it's too good to be," Solomon rejoiced.
Beckford-Knighton said she loves seeing the energy shift in her bed rest moms during the photoshoots.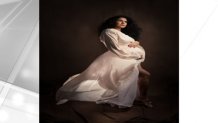 "There's always a sweet spot in the photography session where mommy kind of relaxes and lets her guard down and really starts to come in to herself," Beckford-Knighton said.
The photographer's work isn't limited to bed rest moms. She also creates magical moments for moms of premature babies. She safely does the photo shoots from the hospital and the final images capture the preemies without feeding tubes and bandages.